Hey everyone… Riley here. Yup, I've taken over the computer for a day to tell you about a little something going on. If you were hoping for the next installment of the 'Building Your Dogs Six Pack', don't worry it will be back next week as mom has been going crazy with this new move of ours. So, November is NaNoWriMo, or National Novel Writing Month and we are happy to be participating with a little help from our friend Rocco and some other doggy friends. Yup we are getting together to write a novel from our doggies perspective.
If you would like to catch up with the story:
Rocco – Day 1
Bongo – Day 2
Haley and Zaphod – Day 3
Easy Rider – Day 4
My Rotten Dogs – Day 5
Sophie Doodle – Day 6
Haiku by Ku Haiku – Day 7
So now for my chapter of the story:
I am a little hesitant as it is really dark inside, but that smell of pizza is just pulling me in.
You see my master has been on a fitness kick lately, so there is no pizza in the house. We usually get pizza every Sunday, but not anymore… I used to steal little nibbles when I would give that special look… you know that look, my master becomes putty in my hands and I get PIZZA! But no more 🙁 Instead its Raw Food, master says it's better for me and and my treats are now carrots and apples. I think that I am in great shape, I have the ability to run along the fence and chase 'that' squirell, but apparently that isn't enough exercise! Yup, my days now consist of 30 minute walks and then we go to this special place master likes to call the K-9 Gym Time. I like going there because I can get special treats there when I practice my balance moves and I get to see my girl Riley. My master tells me that with conditioning exercises, cross training, and my daily walks I will be strong, healthy & happy.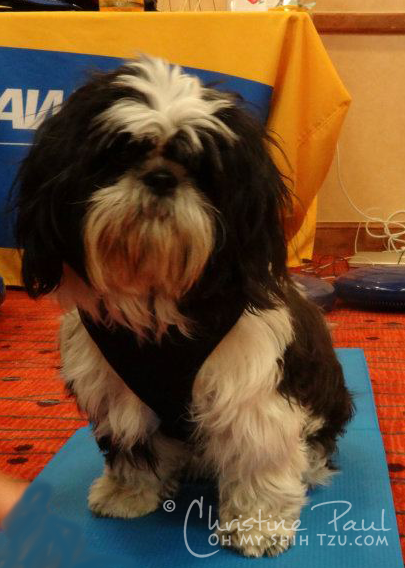 But wait, as I look inside the cabin I notice more humans inside. What is going on here? Why is everyone laughing? I haven't seen so many humans having such a good time since my friend Mayzi won her Mach 2 in agility… whatever that is.
I'm so confused now, there is something strange going on here. As I creep closer to the door and the man I can smell something else… is that what I think it is? Is that cake?
Be sure to follow the rest of the story tomorrow with Sparhawk Scotties
~Today we are also participating in FitDog Friday, trying to spread the message of having a fit canine in a different way today! Be sure to visit the hosts, SlimDoggy, Peggy's Pet Place and To Dog With Love .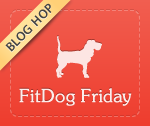 ~