Since I am constantly training, treats can really impact a persons budget. Fortunately for me I bought my girls a dehydrator for Christmas. If you don't have a dehydrator I suggest you purchase one. After much research I purchased the Nesco American Harvest FD-61WHC Snackmaster Express Food Dehydrator All-In-One Kit with Jerky Gun
.
Last week I decided to do something a little different for the girls and instead of making crunchy chicken liver cookies, I thought a softer dehydrated chicken liver might be a bit tastier.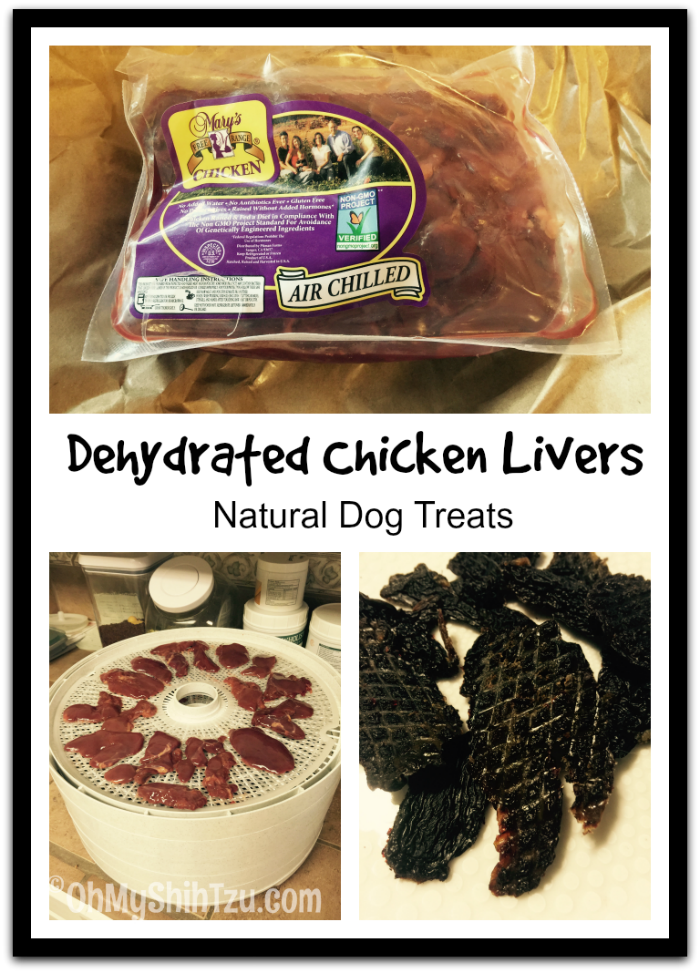 Dehydrated Chicken Liver Dog Treats
Step 1:
If possible find livers that come from Free Range Chickens. My favorites come from Mary's Chicken which is just up the road from where I live, but I purchase them from Whole Foods! I love Mary's Chicken because they are the first in the industry to be Verified with Non-GMO Project seal. I belive you can purchase Mary's Chicken as far east as Arizona, but you can find locations HERE!
Step 2:
Rinse and clean livers. Chicken livers can be very fragile, so rinse slowly with cool water.
Step 3:
Cut livers as needed. I would separate the liver into then even slices, basically following the lobes of the liver.
Step 4:
Place livers on dehydrator plates. To help with the liver from falling through the grates of the dehydrator I used the screen sheets and sprayed with coconut oil to prevent sticking. This gave the livers a nice flat service and it also gives a nice design on the underside of the liver once it is finished dehydrating.
Step 5:
Set temperature as indicated on dehydrator of 160° degrees Farenheit. Dehydrate 5-6 hours or until desired level of dehydration is achieved.
Step 6:
Store in air tight container or Ziploc in refrigerator.
Cost:
This treat session cost only $3.94 for a little less than a pound of raw livers! This is a bargain compared to what you would pay for quality treats. But unlike treats that you would purchase from the store, these are made with love and the very best of ingredients that you have selected!
The Proof is in the Excitement
Here is a little proof of how much these dehydrated chicken liver dog treats are loved in my house!!


Disclaimer: This post does contain affiliate links. A commission may be paid to me if you click the link and purchase a product from the brand, these commissions in no way impact my opinion of a product. I will never write a review on a brand's product, nor will I promote a product, if I believe the product will not be beneficial to you.