Mr. JoeJo, aka Bubba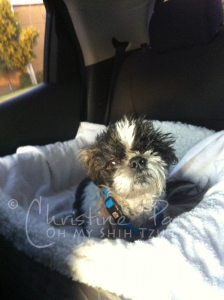 and I fell in love.
But it wasn't love at first sight. I recieived another message from a rescue person in the north valley about a contact she had. A couple had a Shih Tzu that they needed to rehome or they were going to euthanize. I spoke to them about the situation, in which that due to the economy and both losing their jobs, they were no longer able to care for an elderly Shih Tzu. In addition the Shih Tzu was very aggressive and had to be medicated for any type of care or grooming. I wasn't sure if I could handle this type of dog, and at a point thought that maybe it would be best for him to be put down, as it sounded he could not be adopted out due to his aggressive nature. But as life would have it, I had a friend that encouraged me not to listen to the owner, but give the dog a chance. So again with the help of ACT Rescue, Florence Nightingale I became.
And yes, JoeJo was very aggressive. Giving him medication was a scary situation. I wore protective gloves because he wouldn't just nip, he would come after you with a full set of shark teeth and not stop. Obviously a learned behavior from years of being in pain with ear infections. But each time he was medicated, I followed with a yummy reward. In addition to the gloves I used a no-bite collar so he couldn't turn his head and get me. That graduated to using a soft muzzle that covered his eyes. Fast forward to today… I use only a Boppy so that way when giving his eye meds he doesn't drop his head, it keeps his little head tilted up so I can put the drops in. There is no aggression at all!! He completely trusts me.
But with age comes other problems.
Last May (2012) JoeJo was diagnosed with
Canine Cognitive Dysfunction
This condition, once called the senile or old dog syndrome, is a newly recognized disease, somewhat similar to Alzheimer's disease in people. In dogs with cognitive dysfunction syndrome, the brain undergoes a series of changes that result in a decline in the mental faculties associated with thinking, recognition, memory, and learned behavior. Fifty percent of dogs over age 10 will exhibit one or more symptoms of cognitive dysfunction syndrome. Cognitive dysfunction is a progressive disease with increasing signs of senile behavior.

Disorientation is one of the principal symptoms of cognitive dysfunction syndrome. The dog appears lost in the house or yard, gets stuck in corners or under or behind furniture, has difficulty finding the door (stands at the hinge side or goes to the wrong door), doesn't recognize familiar people, and fails to respond to verbal cues or his name. Hearing and vision loss must be ruled out.

Activity and sleep patterns are disturbed. The dog sleeps more in a 24-hour period, but sleeps less during the night. There is a decrease in purposeful activity and an increase in aimless wandering and pacing. Dogs with cognitive dysfunction may also exhibit compulsive behaviors with circling, tremors, stiffness, and weakness.

Housetraining is another area that suffers. The dog may urinate and/or defecate indoors, sometimes even in the view of his owners, and may signal less often to go outside.

Often, interactions with family members become much less intense. The dog seeks less attention, often walks away when being petted, shows less enthusiasm when greeted, and may no longer greet his family. Other dogs seem to need human contact 24 hours a day.

Some of these symptoms may be due to age-related physical changes and not to cognitive dysfunction. A medical condition such as cancer, infection, organ failure, or drug side effects could be the sole cause of the behavioral changes or could be aggravating the problem. Thus, medical problems must be tested for and eliminated before senile symptoms are attributed to cognitive dysfunction syndrome.

Research on the aging canine brain reveals a number of pathogenic processes that could account for many of the symptoms of cognitive dysfunction syndrome. A protein called B-amyloid is deposited in the white and gray matter of the brain and forms plaques that result in cell death and brain shrinkage. Alterations in various neurotransmitter chemicals, including serotonin, norepinephrine, and dopamine, have been described. Oxygen levels in the brains of senile dogs are decreased.

There is no specific test for cognitive dysfunction syndrome. The number of symptoms the dog exhibits and the severity of the senile behavior are important considerations in making the diagnosis. An MRI may show some degree of brain shrinkage, but the test is not likely to be done unless a brain tumor is suspected. Awareness of the diagnosis makes it easier to understand the dog's behavior.

Treatment: The drug Anipryl (selegiline), used by humans to treat Parkinson's disease, has been found to dramatically improve symptoms and the quality of life for many dogs with cognitive dysfunction syndrome. The drug is given once daily as a pill. Because medical treatment is now available, it is even more important to seek veterinary consultation for behavior changes in elderly dogs.
~~from Pet WebMD
When I first got JoeJo we did not think he would live very long due to the state of his health. Heck I was hoping that he would make it to Christmas. That was July of 2011. Well as of today he is doing better than ever! At almost 15 years old he is a little fighter. He has become so loving to me. Now he falls asleep on my shoulder at night when we go to bed. He is my love.
Update: It took me a long time to come back to this page, it has been 8 months since my little guy went to wait for me at the bridge. JoeJo passed on July 8th, 2013. I will see you someday soon my love.