There is no question of how much I love my little man. It's been a week and a half, and the little guy still has his feeding tube in. At the last doctors visit on Thursday, he was eating well and drinking great. But to be on the safe side we decided to leave in the tube just in case. I along with his vet were glad we did. The next day he stopped eating and began drooling. I immediately called the hospital and talked with Shane the RVT and we decided that he's tummy ache had come back, so we put him back on Cerenia. With that along with the appetite stimulator he was able to eat lunch on his own. This is an example of what our days looked like: (and yes I keep track of his meds and food during times like this)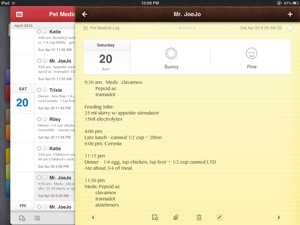 Upon returning home, I administered his morning meds. I use a baby Boppy to help support and stabilize him. I think he likes it because it wraps around him and makes home feel safe…he will almost always fall asleep.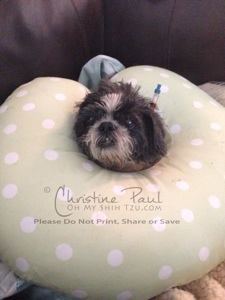 I think the feeding tube is great, as it really helps him get past those times when he does not feel good and doesn't want to eat. Sorry for the blurriness, I was home alone, and its a wee bit hard to take a pic with an iPhone. I guess that's the time I should get out my dSLR.