This post contains affiliate links for ease of ordering some of our favorite products.
January 17 was Riley's birthday so we decided to celebrate and throw a Shih Tzu Birthday Party . I made it my quest to find a yummy natural dog birthday cake for the special event. Initially I thought of purchasing a cake, but with prices in the range of $40 – $50 that was out of the question. I knew a DIY dog birthday cake would be in order.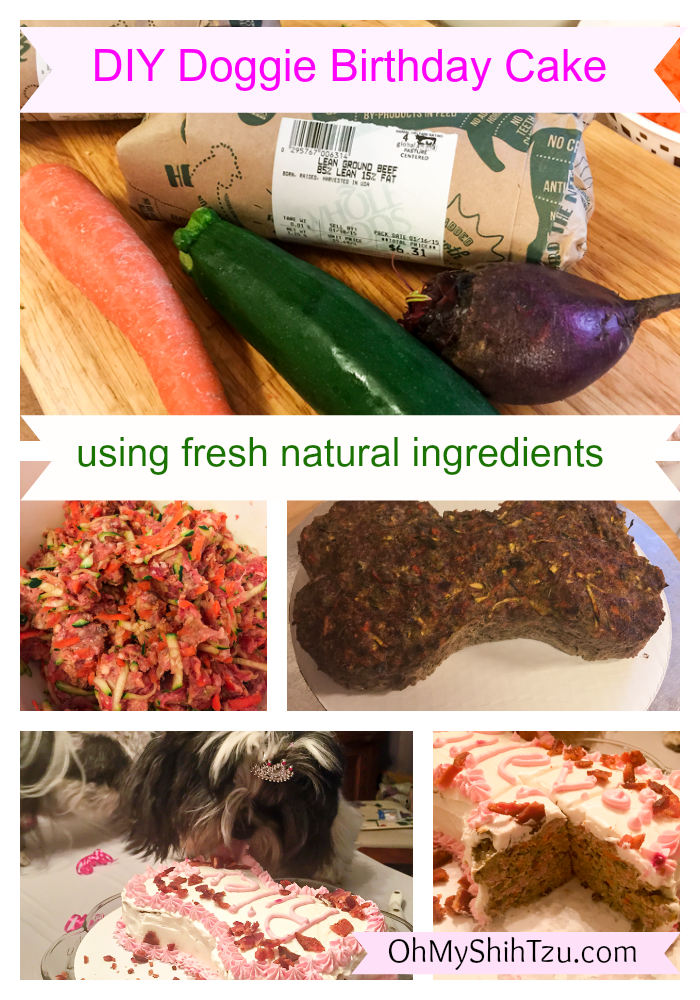 My girls eat a raw diet, so I really wanted to stay close to their normal diet as much as possible, so their cake included a yummy blend of lamb, beef and The Honest Kitchen Hale base mix, along with fresh veggies. I did purchase all ingredients at Whole Foods with the exception of THK Hale base mix, as the Hale is a part of our everyday feeding, and kept the price under $25.00. This price could be lower if you changed the lamb with another meat of your choice, either ground chicken or turkey. This recipe is very easy to adjust so you can include veggies that are currently in season in your area, or ones that your dog may prefer. Since there isn't any type of wheat or flour in this recipe it is very dense, so a small slice can go a long way.
Dog Birthday Cake
Natural Doggie Birthday Cake
2015-01-19 23:33:41
Serves 14
This is yummy cake is a fun take on meatloaf.
Cake
1/2 pound ground lamb
1/2 pound ground beef
1/2 cup The Honest Kitchen Hale Base Mix (mixed with 1/2 cup water)
1 zucchini (shredded)
1 carrot (shredded)
1 egg
1/2 cup Parmesan Cheese
5 strips of bacon
Frosting
8 oz light cream cheese
8 oz Greek Yogurt
1 beet
Instructions
Preheat oven to 350 degrees
Bake bacon until crispy, approximately 20 minutes, crumble once cooked
Combine first 5 ingredients, mix thoroughly (I used my hands)
Add Egg, mix
Add Parmesan, mix
Add half of crumbled bacon
Once all ingredients are combined place into lightly greased silicon pan
Bake for 50 minutes, remove from oven and drain excess liquid with baster.
Return to oven for an additional 5 minutes.
Allow to cool completely in silicon pan before removing for frosting.
Frosting
Steam sliced beat and allow to cool completely
Combine cream cheese and yogurt and mix into a creamy mixture.
Separate approximately 1/2 cup of mixture for colored decoration on cake
Spread remaining white mixture on cake.
With remaining 1/2 cup add one slice of beet to mixture, pressing beet will release color into cheese mixture, keep pressing beet to achieve desired color.
Add mixture to dispensing bag and decorate with desired decorating tips
Sprinkle remaining bacon on cake and plate
Notes
If your oven is over 5 years old I recommend using an oven thermometer to achieve correct temperature. I actually used my Breville toaster oven to bake this cake .
Adapted from Rachel Ray
Oh My Shih Tzu http://www.ohmyshihtzu.com/
I found this a very easy cake to make, but what I think made it even better was its bone shape. I purchased the
K9Cakery Silicone Cake Pan, 7-Inch by 10-Inch, Small
, which fit perfectly in my Breville Toaster Oven. The girls went crazy about this cake! Even Trixie who never guards her food wouldn't let me help her when it spilled out of the plate. It was that good!!!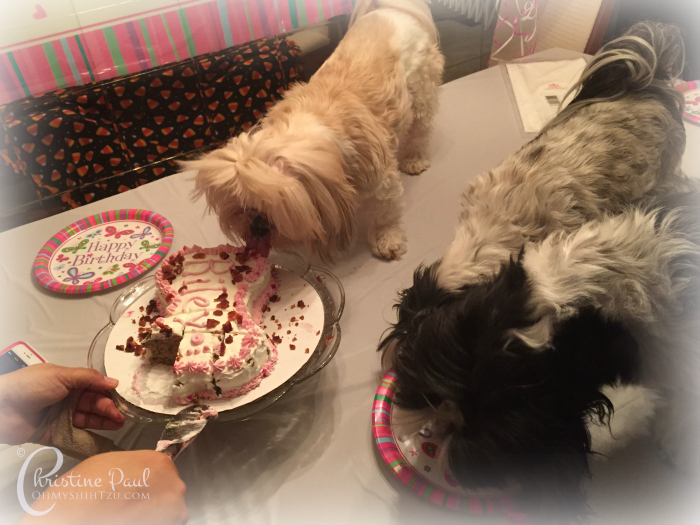 Have you ever made a cake for your dog's birthday? If so, how did it turn out?