So Saturday was a joyous day at our house due to one little Shih Tzu's Birthday party. Yes Riley turned 4 years old. Having 4 Shih Tzus can put a little dent in the wallet sometimes, so I really wanted to be able to throw Riley a little party but stay within a budget of less than $20 for the party, which was to cover all the decorations. Now remember, even though this is my idea of a Shih Tzu birthday party, it can be used for any cute little doggie! Which means YOUR cute little doggie too!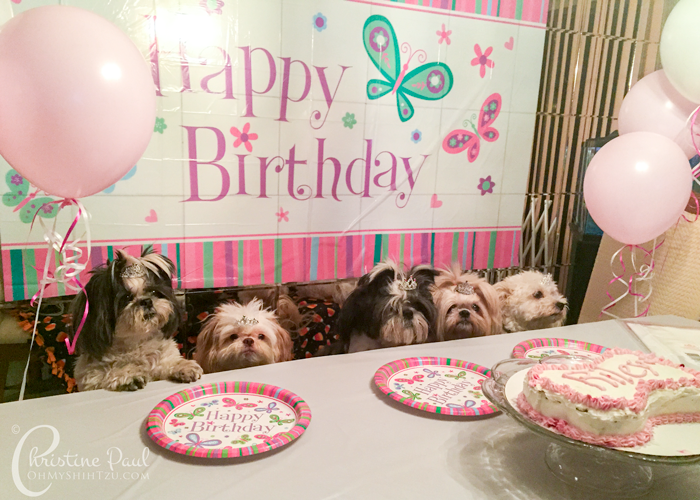 Shih Tzu Birthday Party Decorations
The majority of the decorations were purchased at Dollar Tree, which I find to be the perfect store for many disposable items. Originally I thought of throwing a Princess Party, but when I found the butterfly theme I just couldn't pass it up.
Balloons (15 pack) x 2 $ 2.00 (only 6 balloons were used)
Plates (10 pack) $ 1.00 (only 6 were used)
Wall Mural $ 1.00 (to also be used at a later occasion)
Table Cover $ 1.00
Balloon String (3 rolls) $ 1.00 (2 rolls used)
Tiaras (12 pack) $ 4.00 (purchased at Party City)
Sub-Total = $ 10.00
The one thing I did not add into this total was the disposable helium tank I purchased. The helium tank was $30 but I will probably be able to use it a total of 4 times if I blow up the balloons to approximately 9 inches, according to the information on the box.
Helium $30 / 4 uses = $7.50 (purchased at Party City)
Total = $17.50
So I would call this a success in keeping this within budget. I still have plenty of balloons left over, a few plates, some balloon string and all the tiaras!
The girls absolutely loved this party, I really think they knew what was going on. Once I placed them on the "bench" seat, really it was a board with a Halloween themed fleece thrown over it, they stayed there in anticipation. I thought I would share the festivities with you for the birthday girls song. Please excuse my hubby and I singing :).



If you are wondering, how about the cake? Initially I was going to order a special b-day cake, but the cakes I found were all between $40-$50. There was no way I was spending that kind of money on a cake. So I set out to make my own! After searching a number of recipes I customized my own recipe to my dogs tastes. I really wanted to keep it inline with their normal raw diet as not to upset their tummy's so much.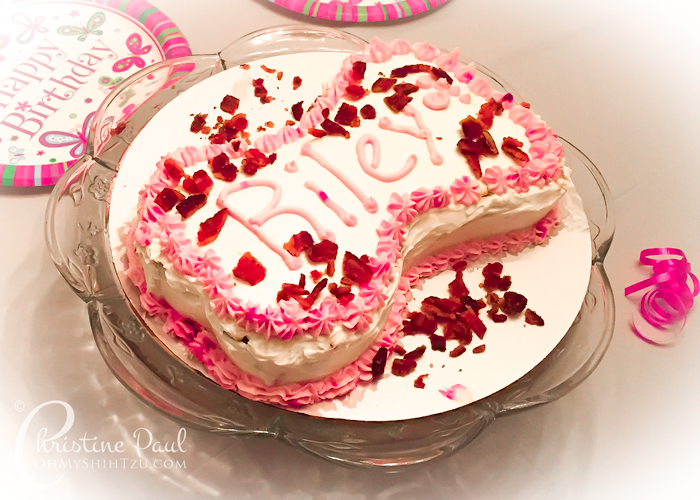 Doesn't that look yummy? If you want the recipe, and to see how I made it, check out our post DIY Dog Birthday Cake as we join the Tasty Tuesday blog hop!