Heartworms. Do you know the one simple truth about this little parasite? The simple fact is that it only takes one bite and your dog is infected. And the sad thing about this is that dogs can be infected for years without signs or symptoms. Left untreated, this disease progresses and leads to heart failure and death.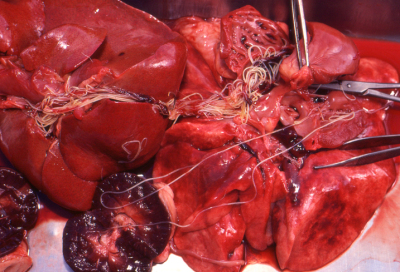 Prevention
The best way to protect your pet is to be on a year round preventative.
How are dogs diagnosed?
Most commonly a blood test is administered to detect the presence of heart worms. If the test comes back positive, an ultrasound can be used to determine the severity of the disease.
What do heartworms do?
A Heartworm can clog the heart and major blood vessels leading to congestive heart failure. When this congestion occurs, it causes a decrease in blood supply to major organs such as the lungs, kidneys and liver.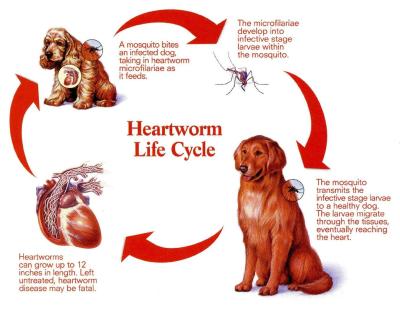 for more information on heartworm disease visit heartwormsociety.org
FAQ
Does preventative medications prevent my dogs from becoming infected?
I was shocked to find out that the medications don't prevent my dogs from becoming infected, they only kill new heartworms that have infected the pet between doses. So it is important to give your pet monthly doses and to get yearly tests.
But there aren't very many mosquito's where I live and I hear it's more prevalent in the South, so I should be safe right?
Wrong! Heartworms cases have been documented in all 50 states!
VIDEO: The test your pet should take.
Thanks for joining us on our NOT SO WORDLESS WEDNESDAY!! This has been a public service announcement!
We are so happy to be participating in this months A to Z Challenge!