We enjoy agility so much. In week four of our agility class I thought I would share some of the Agility jumping drills we are working on. If you have never taken an agility class, I recommend that you seek out a qualified trainer and not rely on these postings to learn agility.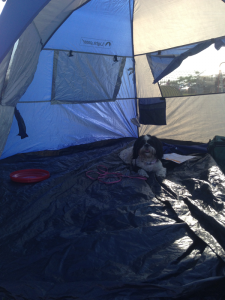 So as with every week I usually arrive approximately 30 minutes early to set up our tent. In the central valley it is starting to get hot with temps in the upper 80's & low 90's right now, so a little shade is always good. Then we proceed with a warm up which consist of ground work (heels & front crosses), sit-stays and recalls, perches and wobble boards and then a little stretching and massaging.
We have a great class and instructor, Mary Van Wormer of Great Start Agility in Turlock, CA. This is our second round of classes with her as we previously took Agility Foundations. When Riley first started she was a very shy little (big) Shih Tzu. Now when we arrive at the agility field she is so excited and ready to go. In the beginning she wouldn't take treats from anyone else but me, and now, much to Mary's delight she will take treats and warmly great her with excitement when we arrive. A completely different little girl from 3 months ago.
We have a small class of 4 dogs which consists of : Tac the Boarder Collie, an Australian Shepard whose name has just slipped my mind and Zippy a very hyper little terrier. This is great as there are 2 big dogs and 2 little dogs.
After our warm up for the evening, and me dumping water all over Riley to keep her cool, we began the night by recaping last weeks skills. Those consisted of a bounce jump with extension. This is a great skill as it teaches the dog to focus forward on the jumps before it and determine their course of action. 3 bounce jumps (collecting themselves), followed by a jump places a little further out to extend themselves in a jump.
For the purposes of this blog, I have used the Clean Run Course Designer to demonstrate our weekly skills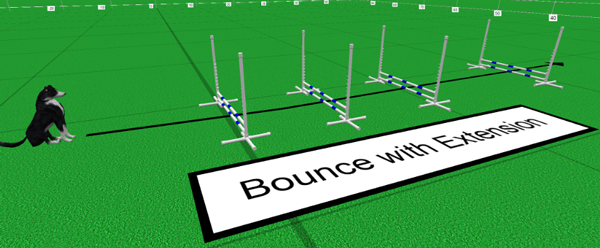 We then moved on to the Crazy jump. Sometimes it takes Riley a couple of tries to get the idea of what is going on. We always begin each jump with a sit stay for now, and once released, she heads for a target to receive her treat. After a few failed attempts of navigating the jumps, she proceed to go around the jumps to her target, Mary had to hold her collar and direct her forward so she wouldn't go around the jumps. Once she figured out she was to jump the first, she proceeded through the other 2 jumps. Sometimes she needs a little help to figure out what is requested of her.

Our third skill for the night was the Diagonal jump. I like working this skill as it really sharpens their focus on the jumps and navigating a different situation. Again we had several refusals of the situation. After a few failed attempts of navigating the jumps, she proceed to go around the jumps to her target, I had to go back to the second jump. Once she understood to jump 1 & 2, I then proceeded back to the target and then released her. She jumped through perfectly. We like to think she is a little weird because now we wont get any refusals from those obstacles again.

We then practiced the tire jump, winged jump and double jump (from last weeks class) and added on the triple jump (far left), panel jump (2nd from right). All of the skills along with practicing the jumps are only performed 3-5 times. Once the skill is learned there is no need to repeat it over and over.

We ended the evening with a new handling skill. That is a jump rap (at least that is what I call it). Standing at the bar or slightly behind it, we release the dog to the jump and then pivot (180) and have the dog heel on the left side.

We now have a two week break… so we have lots to work on!