Having a puppy is one of the greatest things, until the moment you realize that you actually need to raise the puppy to be a well-behaved adult dog. One of the most important skills your puppy can learn, and one of the easiest to teach is an attention or focus skill.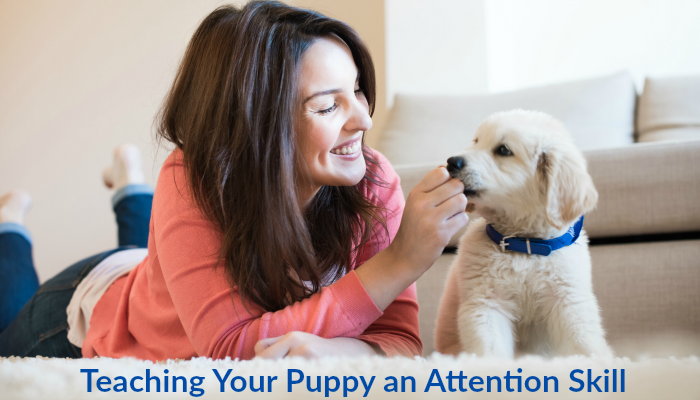 Items Needed
As I said this is a very easy skill to teach, there are only 3 items needed:
Puppy
Soft Treat
You!
Teaching an Attention Skill
If you have other dogs in the household make sure they are in another room as they are not tempted to interrupt and snatch a treat from you or your puppy.
Since I have small dogs I tend to sit on the floor with them and both of us facing each other. It doesn't matter if your puppy is standing or sitting, as the treat will soon get their attention.
With the treat between your finger and your thumb, create an imaginary line from your puppy's nose to your nose. As you are making the imaginary line say the word "look" or "focus". This will cause your puppy to look in your eyes!
As soon as you make eye contact say "yes" and give your puppy the treat.
Repeat 5-10 times with treat.
Once your puppy seems to get the hang of it, just use your finger and point to your eyes or nose and say your focus word, "look" or "focus". If your puppy gives you the desired behavior say "yes" and give treat.
I believe in constant reinforcement, so I will continue to use treats in training. Heck, you don't work for free right?
Age to Start
Since this is a basic skill, it should be taught once you get your puppy home. Don't wait to go to puppy class to start training. Kevin came to us at 12 weeks old and we started him right away. But if you have an older puppy or even an adult dog this is a great skill to teach.
Benefits
Teaching a great attention skill is a great benefit if your dog develops interest in other objects which can become obstacles in your training. For example, you are on a walk and a squirrel runs up a tree nearby. You immediately give your focus word and instead of focusing on the squirrel your dog focuses on you! TADA! Now please don't think that one ten(10) minute training session will result in this, but with time and training it is possible.
One item I will probably stress the most is one simple fact. Training a dog is an obligation to your puppy and dog, it is not an option. Begin training your puppy immediately to prevent problems from arising, not one the problem begins.
Photo Credit: Featured Image Adobe Stock Photos JoLopes