4 years ago my husband and I decided to make changes in our lives. We left our small quiet town in Utah and moved back to my hometown in California so he could attend law school.
So fast forward a few years and here we are, he graduated in 2012 and I have decided to go back to school and pursue my love of photography… with Riley in tow we are heading off to start our second semester today.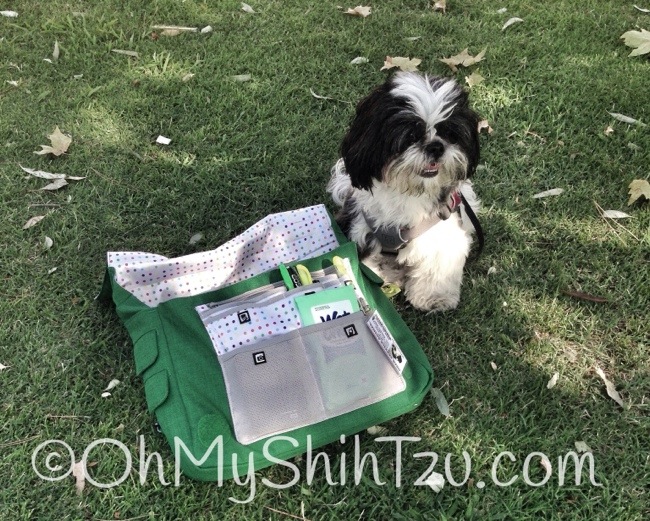 As a responsible owner, I always carry what I like to think of as the daily doggie essentials: collapsible bowl for water, poop bags, clicker for mental stimulation between classes (training cute tricks), treats and her cool pad (review coming soon). But there are dangerous items for dogs and Riley to be found in my backpack and possibly in your purse.
Asthma Inhaler – unfortunately 6 years ago I discovered how dangerous inhalers can be. Inhalers have highly concentrated doses of albuterol or/and fluticasone and when punctured can send out a huge dose of these medicines which can cause agitation, heart arrhythmia, vomiting and eventually death. Luckily for me I was home at the time when Sunny (non-Shih Tzu) thought my inhaler was a great chew toy, upon discovery of what had happened she was rushed to the vet. After medications were administered by the vet along with over night observation, as they were afraid she would crash, Sunny was able to come back home. Had we delayed in deciding to take her in she would not be with us today.
Artificially Sweetened Gum – I don't know about you, but I love chewing gum and my favorite happens to be Orbitz cinnamon (which helps keep me awake in class) that contains Xylitol. In small amount, Xylitol can cause blood sugar to crash rapidly and in larger amounts cause complete liver failure. In addition to gum, Xylitol can also be found in OTC medications such as childrens Benadryl (liquid), chewable vitamins, toothpaste and so much more. Be sure to check labels!!!
Hand Sanitizer – small bottles of sanitizer have an extremely high amount of alcohol, when ingested can cause a drop in blood sugar, body temperature, coma and possibly death. If possible use wipes instead.
OTC Medications – I normally carry an emergency bag, and in it pain killers. My drug of choice due to allergies is Tylenol, which is VERY toxic to dogs and fatal to cats. If you are one to carry Advil or Motrin, be aware they can also cause kidney failure.
Other items which you may carry in your purse or bag
Cigarettes – nicotine, chewing tobacco, nicotine gum are toxic and can be fatal to a small dog!
What can you do to prevent accidental ingestion of potentially fatal items in your purse?
Place your purse in a 'safe spot' at home. do not leave purses or backpack on the floor.
Be sure to place all medications when not in use locked in a cabinet.
Carry mints or gum that do not contain Xylitol!
Print out and place the Pet Poison Hotline on your fridge! Also add it to your contact list on your cell phone.
So now it's your turn… go through your purse or backpack and let me know what dangers you've discovered and what you've done to keep your pet safe.