So if you think you might want to try some agility with your dog, but also want to do it safely (no broomstick on a chair), then building your own equipment out of pvc may be right up your alley.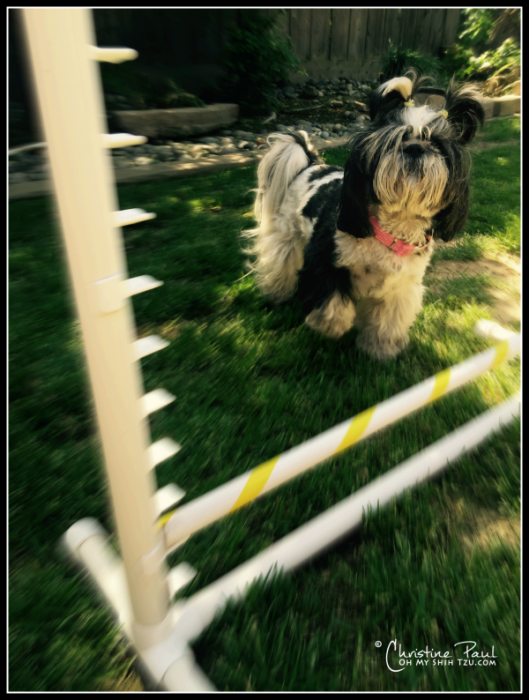 Today I am going to show you how I made my jumps, and also give you links for additional equipment plans.
Tools Needed
Saw (not needed now, but for future DIY equipment)
PVC cutter (Tube Cutter) – spend a little bit more for a tube cutter like the one below, the lower priced ratchet cutters are a lot harder to use.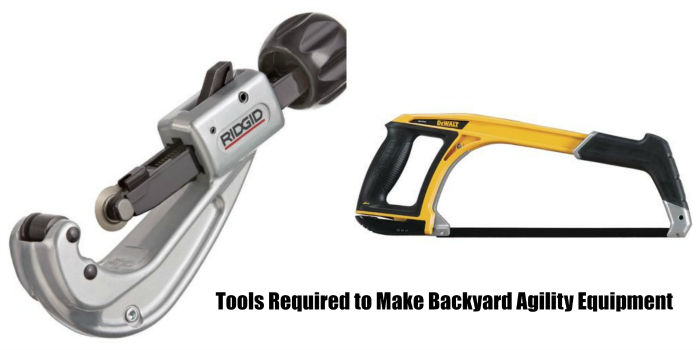 There are several ways you can make jumps, but I like using a base bar method.
Required PVC
2 – 8 foot Schedule 40 PVC

Cut into the following: 5 – 30inch pieces ; 4 – 6 inch pieces

6 – 1 inch end caps
2 – PVC 4-Way Connectors : these can be purchased at Clean Run Magazine
1 – Set of Clip n' Go Jump Cup Strips
Colored Electrical Tape
I use the above lengths due to the size of the Shih Tzu's. I find that it saves a little money by only having to buy only 2 pieces of PVC. But if you have a medium to large dog here are a set of jump plans from Clean Run that help you build a little bit taller and wider jump.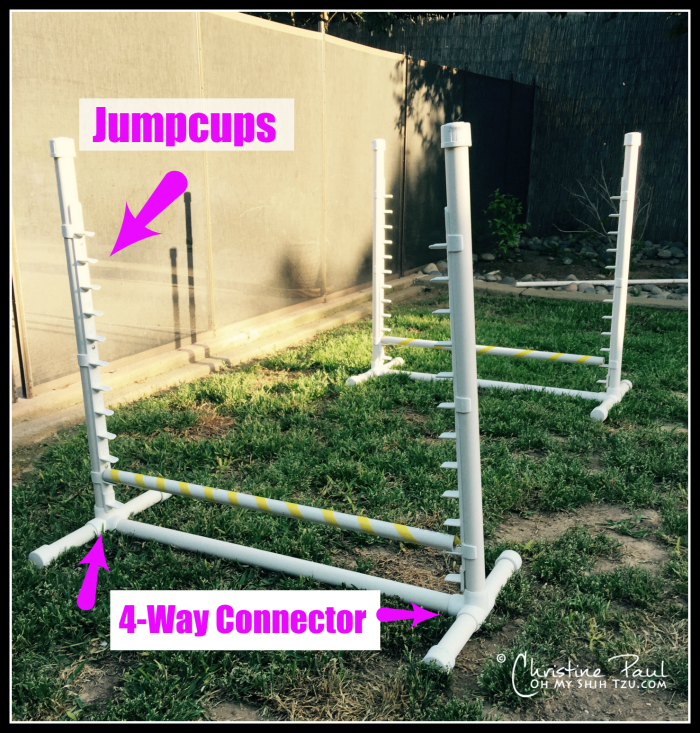 As you can see from the picture, the bars appear to be a little smaller (diameter) than the uprights. At the time when I made these jumps I made more than one, so I used 3/4″ PVC for the cross bars (2- 3/4inch 8ft pvc and 3 – 1 inch 8ft pvc).
I hope this helps and inspires you to make your own jump(s). Always start out with 1 jump, then make 3, and finally work your way up to 5 jumps for your backyard drills. And if you want more equipment plans? Don't worry, we will have a few more posts with detailed instructions on making, a teeter, pause table and dog walk!
Thanks for joining me today in the 2015 A to Z Challenge! Don't forget to stop by tomorrow!