Do you know about the latest and greatest dog sport that is sweeping the nation? It's called Barn Hunt! Barn Hunt is a sport that is based on the traditional roles of many breeds in ridding barns, storage areas and such from rats and other undesirable animals. In the case of Barn Hunt, rats are placed in tubes and the dogs need to find them among bales of hay or straw, but straw is preferred. But the greatest thing about this sport is that Barn Hunt is for Shih Tzus too!!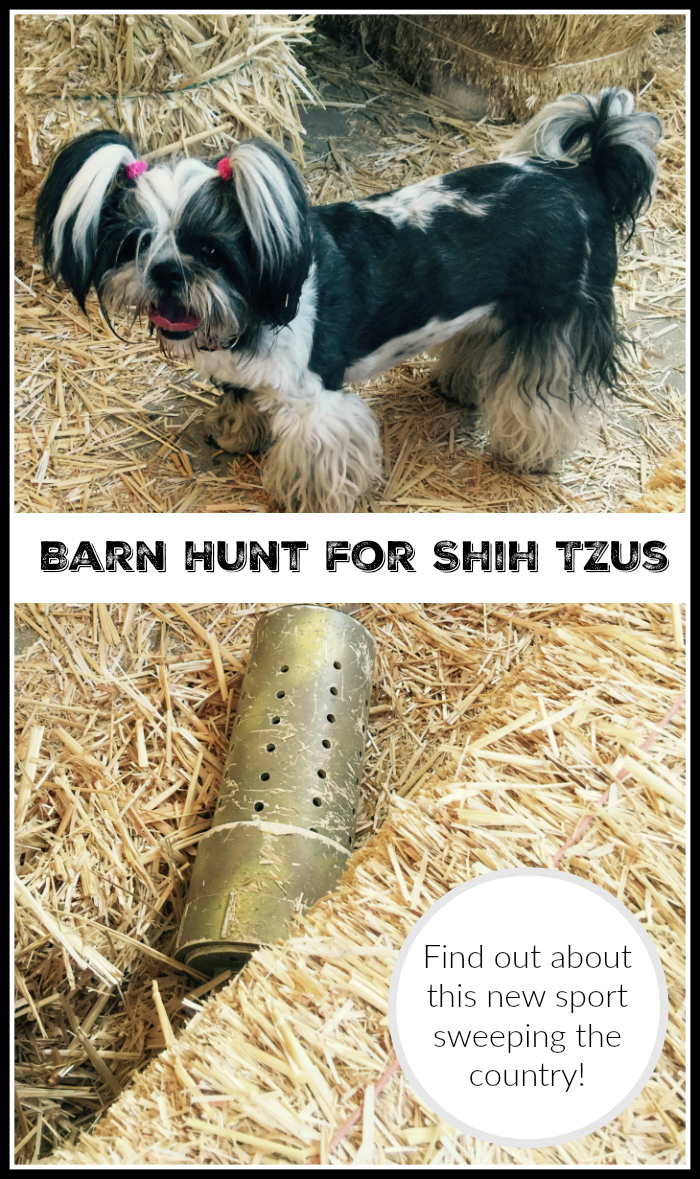 Safety in Barn Hunt
When I first tell people about barn hunt their eyes become very big and I can tell right away what they are thinking, 'Rats! Running loose and your dog has to find them?'. No, No, No, it doesn't work that way. This sport is very much about the safety of the dog and even more so the safety of the rat. As you can see from the picture below, the rat is safely contained in a PVC tube. The handler is never to allow the dog to excessively shake, bite at, or pull the tube. The rat also has to be small enough to comfortably turn around in the tube. When practicing in Barn Hunt or competing, rats are to be rotated as not to cause excessive stress on the animal. Heck, when at a trial there are even Rat Wranglers who care for the rats in and out of the Barn Hunt ring! The Barn Hunt Association insures that this sport is safe for everyone and every animal involved!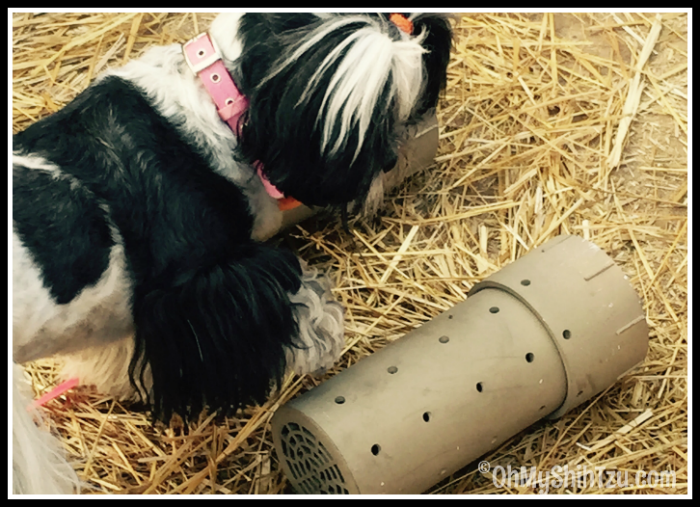 Who Can Compete
Almost anyone can compete, there are a few dogs that can't which you can find HERE , but tripods, deaf dogs, mixed breeds and purebreds can compete! Though this is an independent sport with titles, levels with increasing difficulty it is recognized by both the AKC (American Kennel Club) and UKC (United Kennel Club).
Get Started Today
There are over 250 clubs across the United States so there should be one in your area, and you can find a list HERE. I was happy to find a club in my area to get us started. But if your Shih Tzu doesn't take to the rats right away don't be worried and don't give up. When Riley first was introduced to rats a year ago, it was not her cup of tea. So now we fast forward to a little over a month ago and I decide that maybe we should try it again and guess what? Yup Riley now gets excited about rats and finding them!
So remember, your little Shih Tzus can be more than just little lap dogs. There are many sports out there in which you can get them involved in. They don't have to be sight hounds to participate in lure coursing, they don't have to be terriers to participate in barn hunt, and they don't have to be Border Collies to be agility dogs. Don't let their small stature, prancy walks and partially stubborn nature stop you or them from participating in dog sports. They love to use their over intelligent minds to have a little fun!