This is a sponsored post that contains affiliate links.
Do you love reading books? Do you love dogs? Do you love reading books about dogs? Well if you answered yes to any of those answers, I have a great book to put on your Christmas list, or better yet, your reading list!
From the Publisher:
"We decided to publish Reporting for Duty to emphasize the urgent and desperate need that our veterans have for service dogs and the importance that needs to be placed on supporting them, " said Christopher Reggio, general manager, I-5 Press. "We hope that these 15 powerful stories of hope and empowerment will inspire others to get involved and give back to those who served our country."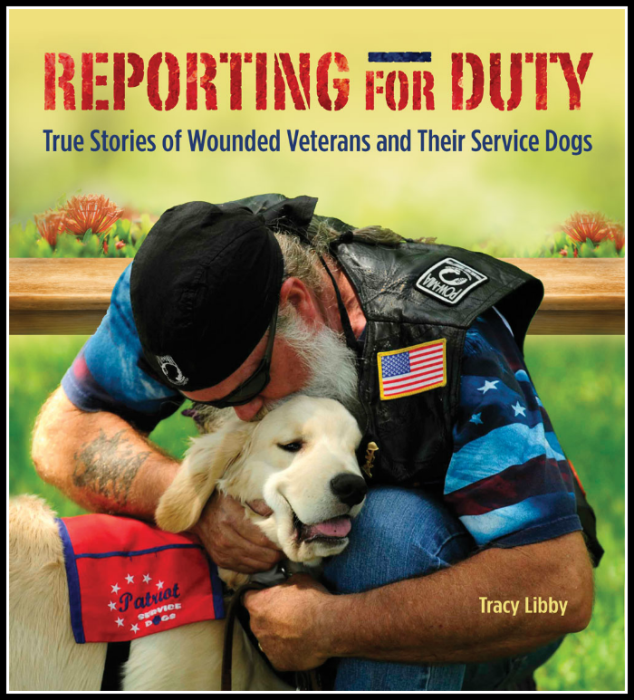 As someone who suffers from PTSD (though not from military experiences) and relies on a dog for my day-to-day life, I loved that this book explained so well how those with PTSD and other war related injuries suffer. But this book also contained various sections including
How dogs read us
A wonderful section about how dogs can perceive the smallest changes in body language, smells and even emotional states.
From Shelter to Service
There is a high cost in training a dog for service. Whether it be to alleviate stress, anxiety or even panic attack or any other symptom that comes with PTSD the cost of a purebred dog can can be $50,000 to $70,000. But organizations are discovering that there are many shelter dogs that can be trained to perform the duties required of a dog at a much smaller cost. Being a fan of Best Friends Animal Society, I was pleased to find out they have a program called Canines with Careers that trained 380 dogs to work helping people in 2013!
Prison Puppy Programs
Raising a puppy can be time-consuming, especially if you want to do it right. When training a puppy, structure is one of the most important things. This is what is great about having a puppy raised by inmates. With structured times for breakfast, lunch and dinner puppies are given the structure they need for a quick and easy potty training plus so much more. Puppies within these programs are well socialized, taught proper behaviors needed for grooming, nail clipping and basic obedience.
Recommendation
This is a great book. Though it highlights men and women that have served in our armed forces with their dogs, it is excellent in letting people know the importance of Service Dogs. Throughout the book large dogs are pictured, but the author does acknowledge that service dogs can come in all shapes and sizes.
If you are like me and love to keep inspiring books on your coffee table, this is the one that needs to be added and reached for at any given moment. Dogs are simply amazing creatures, and Reporting for Duty does an incredible job at making them even more so.
About the Author
Tracy Libby is an award-winning writer and photographer whose work has won multiple awards from the Dog Writers Association of America (DWAA) and the Alliance of Purebred Dog Writers (APDW). She holds a Bachelor of Science degree in Journalism from the University of Oregon and has been writing about pet care for more than two decades. Her articles have appeared in mainstream magazines, including Dog Fancy, Modern Dog, Dog World, Puppies USA, Dogs USA and the AKC Gazette as well as online for Embrace Pet Insurance. She lives in Oregon with her husband, five cats, and five Australian Shepherds. She has been involved in the sport of dogs for nearly three decades, exhibiting her Aussies in agility, conformation and obedience.
Reporting for Duty
by Tracy Libby
Hardcover with Jacket
Pages: 240
9 1/4 x 10 1/4 inches
More than 190 full-color photographs
$29.95/$37.50 CAN
Publication Date: October 27, 2015
ISBN: 978-1-62008-193-3
I received the book Reporting for Duty in exchange for writing this review, all opinions are my own. This post contains affiliate links, which means I will receive compensation for links clicked.