Last month the Shih Tzu house was rocked with the news that Trixie's mammary tumor came back positive for mammary adenocarcinoma. The phone call was not the one I wanted to receive. I knew what the results were going to be when I heard my veterinarian's voice on the phone. The chances were 50% that the tumor would be malignant, but I was hoping for a better outcome that the tumor would have been benign. Luckily the tumor was very small and we will not have a re-occurrence, nor will there be any metastasis of the cancer. My vet took, what seemed to me, a very large margin around the nipple. Yup she is now missing a teat!But is was the Monthly Breast Exams I began in January that made the difference.
So today Oh My Shih Tzu, along with a couple of our blogging friends Dogthusiast and Pawesome Cats are launching Check the 8 on 8!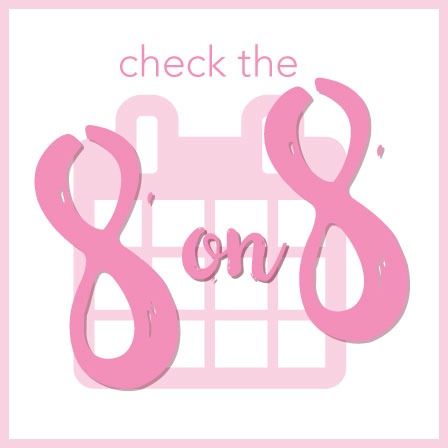 What is

Check the 8 on 8!
Female dogs are born with 8 to 10 teats and 5 mammary glands. Trixie had 8 teats (now 7) . So today is a reminder to check the 8 (or 10) teats on the 8th of the month for any signs of mammary cancer in your dog (or cat).
Early Detection
The best defense against mammary (breast) cancer in dogs is to find it as early as possible. Since a dogs teats are relatively small, doing a monthly check is easy but there are a few things you want to look for.
A mammary tumor will present itself as a solid mass or lump.
Be aware of any irregular shaped lumps
Look for any discolorations or ulceration at the teat site
Who is at Risk?
According to the American College of Veterinary Surgeons:
'Mammary tumors are more common in female dogs that are either not spayed or were spayed after 2 years of age. The risk of a dog developing a mammary tumor is 0.5% if spayed before their first heat (approximately 6 months of age), 8% after their first heat, and 26% after their second heat. More than a quarter of unspayed female dogs will develop a mammary tumor during their lifetime. The risk is much lower for spayed female dogs, male dogs, and cats of either gender. In female dogs, 50% of mammary tumors are benign and 50% are malignant.'
What You Can Do
Every month on the 8th, take a few minutes to check your female dogs and teats. It's these few minutes every month that can save your dog from breast cancer. If you suspect a lump, make an appointment immediately with your veterinarian, inspection alone can not determine if the lump is benign or malignant.
Spread the Word
Facebook, Tweet (#check8on8), Pin, and Instagram your heart out about Breast Cancer in Dogs! Add our badge to your blog!(see sidebar)

The Hop
Join us next month June 8 for the first Check the 8 on 8 blog hop! Lets spread the word