DISCLAIMER: I am not a veterinarian, please consult your veterinarian before starting any new exercise program. I am trainer and lover of dogs.
Since July 2011 I have been using FitPAWS Canine Conditioning Equipment with my dogs & with client dogs. In 2012 I was fortunate enough to attend the first Instructors Canine Fitness Course presented by FitPAWS. So for the next six weeks I wanted to devote my FitDog Friday to some of my favorite products from FitPAWS.
You may already know that it is important for us to maintain our core muscle groups strong we can stay strong, healthy and less prone to injury. The same goes for our canine companions. Core muscle groups for dogs include the back, stomach, shoulders & rear end. In past canine core strength training was very often overlooked & unfortunately for some dogs this can meant the inability to walk in their later years. But not anymore! We are learning everyday the importance of adding cross training and conditioning programs to our dogs exercise program.
As with any human conditioning training program, it is important not to over do it in the beginning. Just like us, a dog can end up sore the next couple of days if they are pushed to hard and too fast. If your dog has any previous surgeries, ACL, Petallar Luxation, etc please consult your veterinarian before beginning a conditioning program. In the beginning, start with a few exercises, short durations (5-10 seconds), and fewer reps making sure you rest between reps. In the beginning your dog can get a good little workout with 3-5 minutes of conditioning. Over time you will be able to build up to more exercises, more reps and slightly longer durations (15-20 seconds).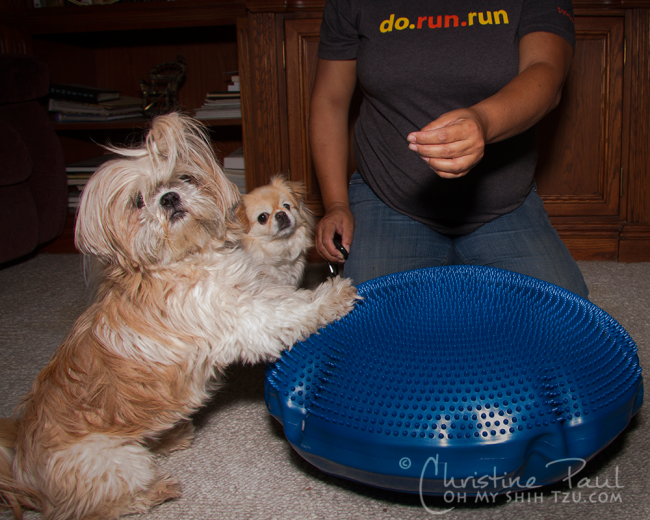 Today I would like to introduce the FitPAWS Balance Disc. The disc that I am using today is the 22 inch disc which I love as I can easily use it for the little dogs & the big dogs. As you can see from the pics, once introduced to the equipment, all the dogs are eager to participate! If this is your first time working with conditioning equipment, or you don't have conditioning equipment, please see my previous post Perch Work, for an introduction on at home exercises with your dog.
Here Riley is demonstrating several basic exercises. A Stand, a Sit and a Down. In the beginning I ask her to only hold the position for a maximum of 5 seconds each. The subtle movements she makes causes her to shift her body weight to maintain balance, thereby engaging and strengthening her muscles.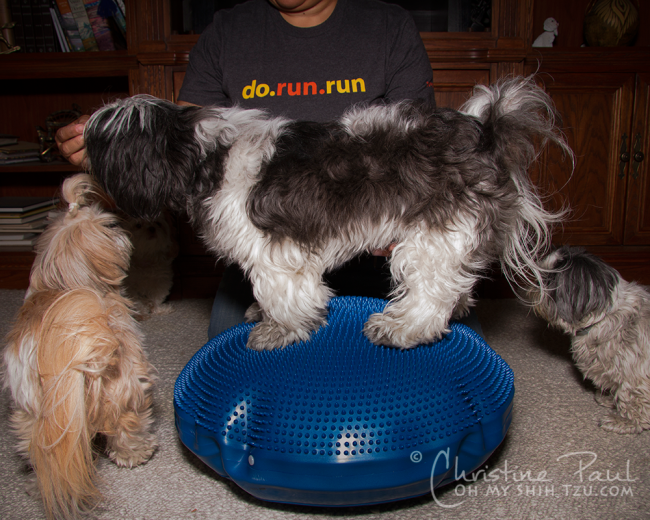 Low calorie yummy treats are always used when training to create a fun, positive activity with your pet. Never use force while working with the equipment as you want your dog to get excited when the balance disc comes out of the closet!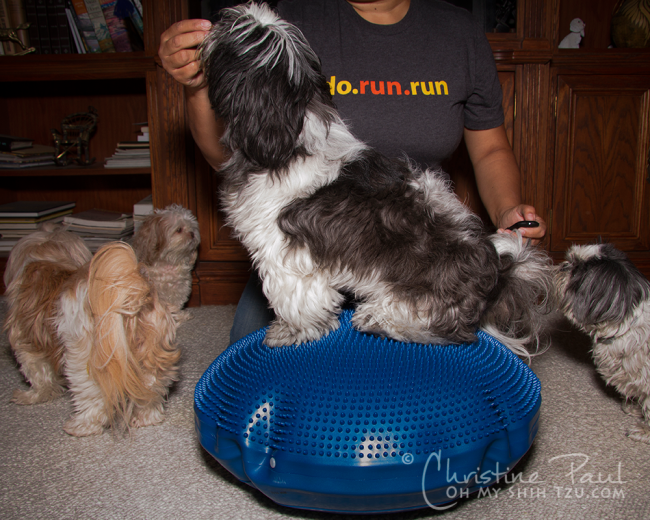 When starting out, incorporate your new conditioning program into your workouts every other day. And be sure to provide proper canine stretching and massage to your routine. My favorite stretching book is The Healthy Way to Stretch Your Dog: A Physical Therapy Approach
.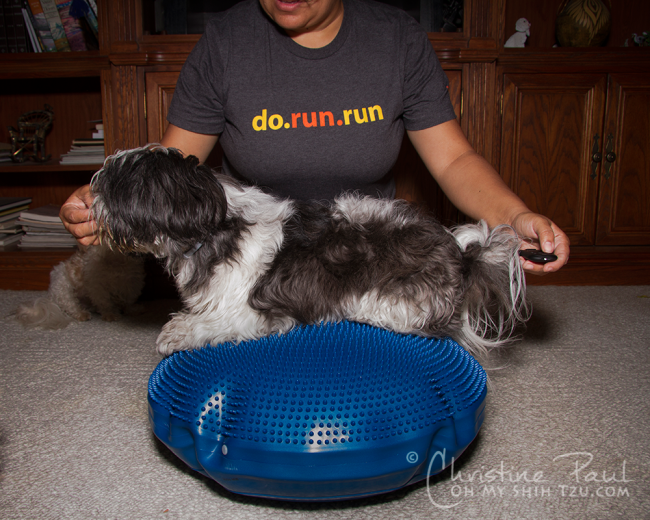 As your dog becomes more accustomed to the Balance Disc and stronger, exercises can be linked and combined.
Once a dog has mastered the basic skills, along with creating a strong core, they can move on to more advanced moves like a Sit Pretty, as demonstrated by Chicky, or Bow Stretches like Riley.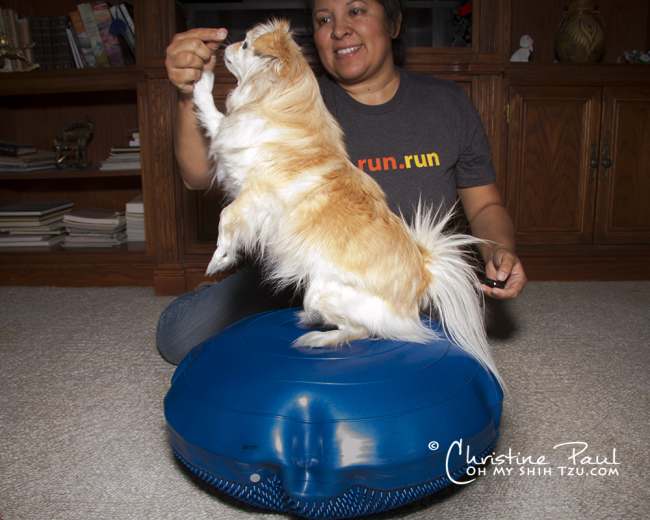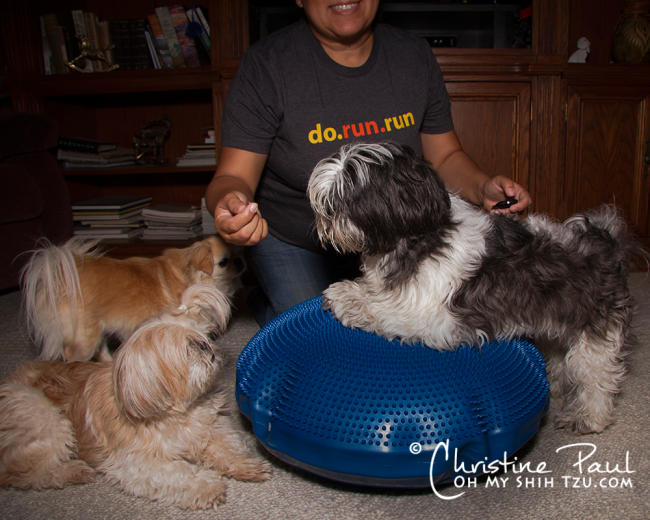 Though you may find similar pieces of equipment made for humans, I would highly suggest buying FitPAWS equipment. The FitPAWS equipment has been specifically designed to be used by dogs. Please remember that these are not toys and should never be left alone for a dog to play with. Please watch this video about the FitPAWS equipment and how to use the Giant Balance Disc.
Disclaimer: FitPAWS did not provide the above equipment nor did we receive any monetary compensation for our post.
We are happy to be joining FitDog Friday, hosted by SlimDoggy, Peggy's Pet Place and To Dog With Love .