Have you thought about fostering a dog from a shelter or a rescue?  My husband and I began fostering when we lived in Utah approximately 6 years ago. Now I wish I could say that we have fostered many dogs, but that isn't true. I have become a foster failure. If you've checked out my about page, you'll see my failures, Katie, Trixie and Mr. JoeJo. But I have also had some success, which includes a cute little guy named Charlie, and currently my newest foster Chicky (pictured below).
Fostering a dog is a very rewarding experience. The happiness you get from knowing that you helped save a life and being a temporary stop on their journey to their "furever" home is priceless.
Meet Chicky: 6 yo spayed female, Pekingese/Chihuahua mix who loves to give kisses.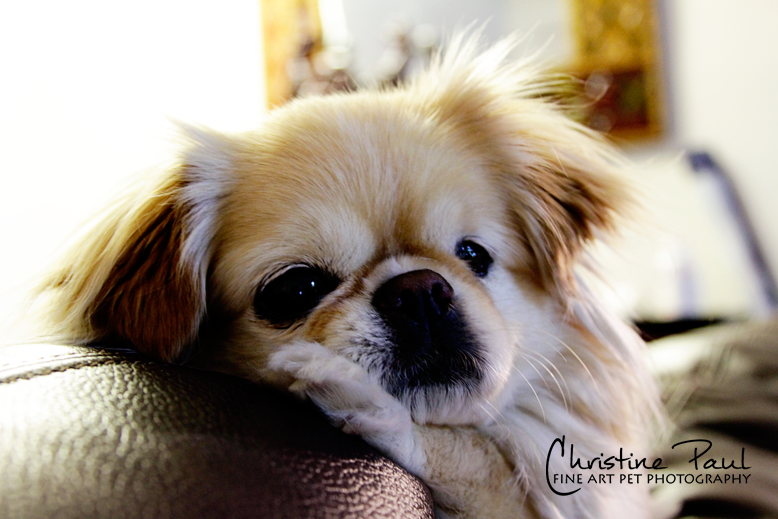 If you are looking for a Shih Tzu to foster or even adopt, please check out Lonestar Shih Tzu & Lhasa Apso Rescue. If you can not foster, or adopt,they have many other volunteer opportunities.
If you are in the central California area, please check out Animal Compassion Team. I can't thank this rescue enough for all the joy they have brought to my life!!
Facts about U.S. Animal Shelters:

There are about 5,000 community animal shelters nationwide that are independent; there is no national organization monitoring these shelters. The terms "humane society" and "SPCA" are generic; shelters using those names are not part of the ASPCA or the Humane Society of the United States. Currently, no government institution or animal organization is responsible for tabulating national statistics for the animal protection movement.

Approximately 5 million to 7 million companion animals enter animal shelters nationwide every year, and approximately 3 million to 4 million are euthanized (60 percent of dogs and 70 percent of cats). Shelter intakes are about evenly divided between those animals relinquished by owners and those picked up by animal control. These are national estimates; the percentage of euthanasia may vary from state to state.
According to the National Council on Pet Population Study and Policy (NCPPSP), less than 2 percent of cats and only 15 to 20 percent of dogs are returned to their owners. Most of these were identified with tags, tattoos or microchips.
Twenty-five percent of dogs who enter local shelters are purebred. (Source: NCPPSP)
Only 10 percent of the animals received by shelters have been spayed or neutered, while 78 percent of pet dogs and 88 percent of pet cats are spayed or neutered, according to the American Pet Products Association (Source: APPA).
More than 20 percent of people who leave dogs in shelters adopted them from a shelter. (Source: NCPPSP)

UPDATE: Chicky is no longer looking for her furever home, she found it with me! I decided in the summer of 2013 that she would stay with me… she bonded with me and I just couldn't let her go, I think it would have broke her heart.