Cancer in dogs may be something you read about, heck you may have had friends whose dogs have dad it. If this sounds like you, consider yourself lucky. This was me until last November. It's been 3 months since I found out my dog Kyra had cancer. Unfortunately by the time we found out , only days were left together. To be honest, I've been pretty numb about the whole thing. Why? Plain and simple, I missed the signs. When I look back, they were there…. I just didn't realize.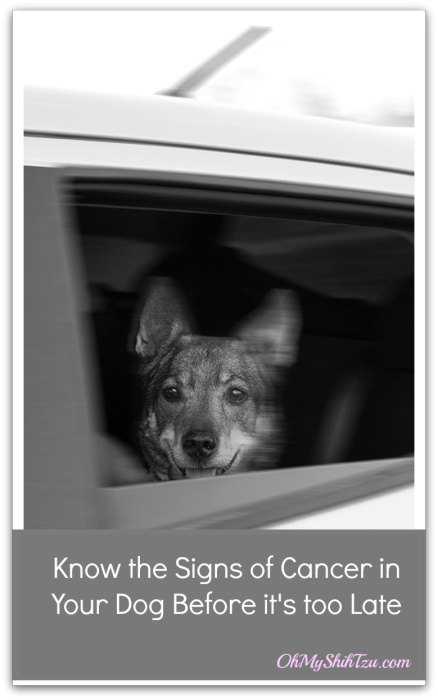 8 Signs of Cancer in Dogs
Bumps & Lumps
Bumps and lumps under the skin can be one indication something is going on or it can also just be a fatty benign tumor. Obviously you wouldn't know until the lump was removed and sent off to a lab. So if you don't do it now, decide today will be the day you start checking your dogs skin on a monthly basis to check for any unusual bumps or lumps. If you find a bump, don't wait to see if it gets bigger, as cancer can grow rapidly and spread.
Weight loss
Normally a dogs weight will remain constant. If there is a sudden decrease in weight, this may indicate something is going on.
Decrease in Appetite
I don't know about you, but my dogs go crazy when it is either breakfast or dinner time. Though this may not be a huge alarm, it should be discussed with your vet.
Lethargy
If your dogs are like mine then they lay around the house all day long. But there is a huge difference in being lazy and being lethargic. Lethargic is defined as being a lack of energy or exhaustion. For example, years ago when Kyra was little I came home from work, and since my mother was visiting me told me that she had vomited earlier that day. When I asked her if she wanted to go for a ride, she just layed there and looked at me. I thought that was weird . I then asked her if she wanted a Greenie, and no response whatsoever. That was the indication to me something was seriously wrong.
Changes in Behavior
Does your dog not seem themselves? From staying away from you to maybe a sudden onset growl when you try to touch them? Changes in behavior can also manifest in physical changes such as a limp, slow upon getting up, and no longer being able to run or walking slowly.
Diarrhea
Is your dog experiencing diarrhea that isn't a result of a change in diet? Has the diarrhea persisted more than a couple of days and does not seem to get better with bland diet? Call the vet immediately if this is also accompanied by other signs or symptoms. diarrhea could result in dehydration in your dog.
Swollen Belly
There are many reasons for a swollen belly, it maybe as simple as a dog eating too much too fast, but that quickly appears and disappears at meal time. But that is only one reason. There are many other seasons that a belly can swell, and this isn't a good sign. A swollen belly requires immediate attention. Please read this about Bloat and Stomach Dilatation in Dogs on PetMd.
I am very sad I did not see some of the signs I listed above. Heck, she only showed 3 signs out of the 8 I mentioned, but no earlier than the last 3 months of her life. The summer before she competed in her last agility trial at 11 years old! I was so proud of her. She brought me great joy, and taught be so much about training dogs and what positive reinforcement can do. She was the best trail dog in the world, always a little bit ahead of me on a trail, but never out of sight. She was a friend to all dogs, big and small. When she was little I taught her to only lick little kids but not adults, something of which I regretted in the end. Her favorite treat was eating whipped cream from the can, which she did up until the last couple of minutes. I have been truly blessed with having some of the best dogs in the world… Kyra was the first.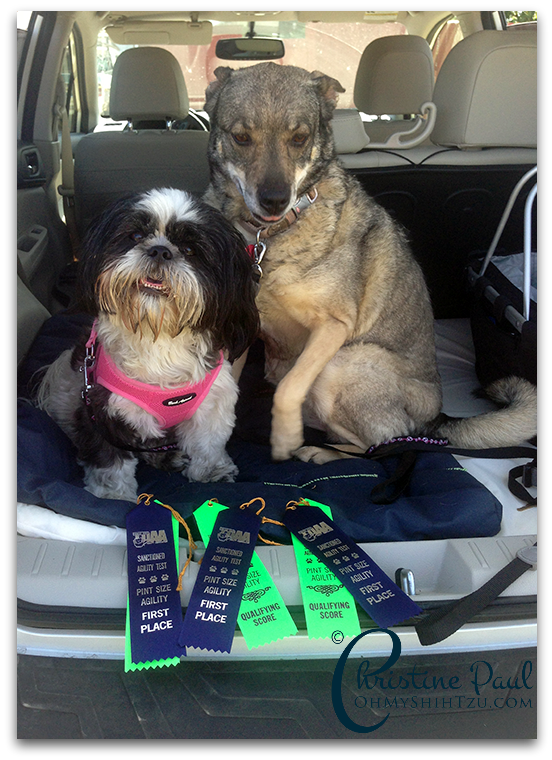 Today we are joining Wordless Wednesday, though this post isn't very wordless, in addition today I am taking Katie in for surgery due to a melanocyte found on her stomach. Yes, hopefully taking the steps of monthly skin checks will save Katie.
Wordless Wednesday is hosted by Blogpaws. Please visit my fellow bloggers for some great pictures and informative stories.