Canine Influenza as you may have heard is sweeping through Chicago and effecting household pet dogs. This virus is, at the time of this writing been documented in Illinois, and has now spread to additional to states including Ohio, Wisconsin, & Indiana. Residents are rushing to get vaccinations, no longer visiting dog parks, and staying home from daycare.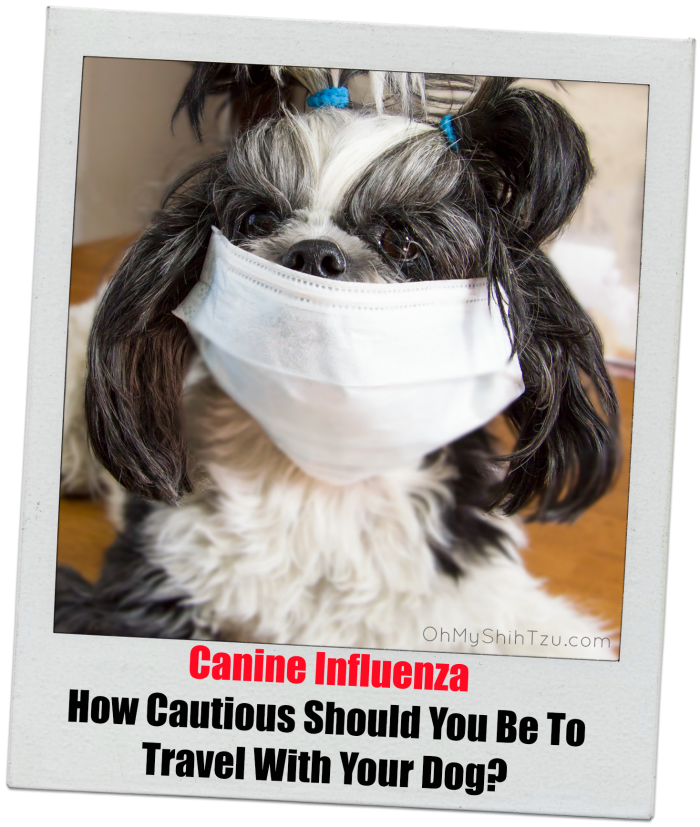 But what about people who are traveling to the midwest or east coast? Is it safe to travel with our dogs? How about those of us who have brachycephalic dogs such as Shih Tzus, Pugs, Boston Terriers and all other smooshy faces? So do we leave our traveling companions at home or do we take the chance and take them with us?
Since next month Riley and I will be traveling to the Blog Paws Conference in Nashville, TN, in May, we are taking this outbreak very seriously. As everyone knows, viruses have a tendency to travel fast! So I set out to find out as much as I could about this virus to not only protect Riley, but everyone else.
Facts About Canine Influenza
Currently there are two strains associated with this outbreak, H3N8 and H3N2. It is the H3N2 that have veterinarians concerned the most, as this strain was once thought (until Feb. 2015) to be limited to Korea, China & Thailand.
H3N8 was an equine influenza that was transferred to dogs and evolved. First seen in Florida in 2004 on a greyhound racetrack, it has since been seen in 30 states including Washington, DC. And according to a document from Iowa State University, as of June 2014, "H3H8 canine influenza virus does not appear to be common among pets". Primarily until these recent outbreak in Chicago this virus was primarily seen on the racetrack and occasionally shelters. It seems that things can change very rapidly.
Transmission
Both of these strains can be transmitted via coughing (aerosolized respiratory secretions) and contaminated objects (bowls, collars, leashes, surfaces), so it can move easily from infected dog to uninfected dog.The scariest thing is that the virus can stay alive 48 hours on surfaces, 24 hours on clothing, and even 12 hours on your hands!
Infection
It is believed that all dogs exposed to the virus will contract it, but 80% will develop clinical signs of the virus, while 20% do not show any signs at all. Unfortunately those 20% are still capable of passing the virus on to other dogs.
Signs
cough that will persist for 10-21 days
low-grade fever (mild cases), high-grade fever (serious infections)
discharge from eyes and/or nose
sneezing
lethargy
Diagnosis
Because the symptoms resemble kennel cough, blood tests are required to determine if antibodies are present for the virus. In addition, if clinical signs are present nasal swabs can determine if the virus is present within the first 4 days of infection.
Treatment
The best course of action can be determined by your veterinarian. Luckily most dogs recover with 2-3 weeks, but for those with compromised immune systems treatment may take longer as secondary infections such as pneumonia, dehydration or other prior illnesses can take hold and cause a delay in achieving 100% optimum health.
Vaccination
Currently there is only a vaccine available for the H3N8 strain within the United States. Approved in 2009, it is an inactivated whole virus manufactured by Intervet/Shiring Plough Animal Health Corporation. Be aware though that this vaccine may not prevent infection, but lessen the severity and duration of the virus. It is not know if this vaccine will protect against the H3N2 strain.
Decision
So now the decision comes to whether or not I will take Riley east with me in 30 days. I must decide on the following:
If I decide to go, do I vaccinate for the H3N8? I do not over vaccinate my dogs, and not really knowing all the side effects that the H3N8 can possess is a little scary.
10 days on the road prior to the beginning of the 2015 Blog Paws Conference I'm worried about the following:

stress
exhaustion
possible dehydration, as sometimes when we are traveling she doesn't like to drink water

Due to the effects on the respiratory system, coming in contact with this virus could be very dangerous, making her susceptible to a secondary infection such as pneumonia.
Is it better to be safe than sorry?
So let me know what you think. I think I have my decision, but I always love to hear the thoughts of my readers.
This post is NOT a part of the A to Z Challenge, that one will come later this evening.