Like you, I just love my dogs. Heck each and every one of us thinks our dogs are the best in the world, and they are! And because we love them so much we always want to make sure that we are doing the very best we can to keep them healthy and healthy. One of the first things we do as pet parents is making sure that we are able to feed the very best food we can. But sometimes questions come to mind when we are feeding. One of the things I do is adding Canned Dog Food to their diets.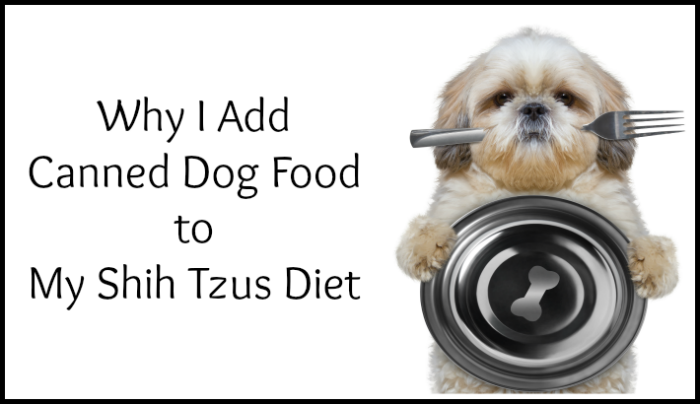 Canned Food Pro
Tasty, Tasty, Tasty – yes, if you are like me you deal with the finicky eater on occasions. I have found this to be true of all our Shih Tzu's except for one! When we are having episodes of the finicky eater, I quickly run to the pantry and grab a can of Petcurean's Grain Free Freshwater Trout + Salmon Pate recipe.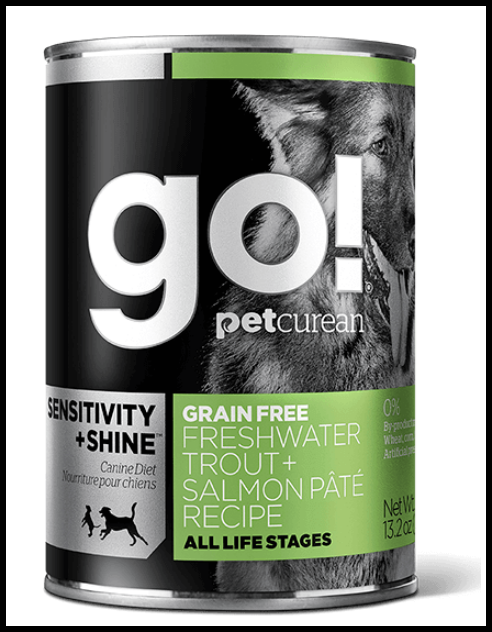 Nutritional Values
When it comes to nutritional values the Petcurean canned food has a lower Carb and Fat content than most of the kibble. We like that. When our non-Shih Tzu Sunny was diagnosed with Pancreatitis a couple of years ago we searched high and low for food that could accommodate her new feeding requirements. Of course we switched to the Petcurean Senior Now Fresh recipe, but I wanted to be able to add a little extra to her food every now and then, it was an easy decision with values like this,
Crude protein (min) 10%
Crude fat (min) 7%
Crude fibre (max) 1.5%
Moisture (max) 78%
And because there is a higher moisture content then dry food, your dog feels fuller faster and actually eats less than you would expect.
Ingredients!
No artificial flavors, preservatives or icky by-products but only the freshest meats, and fruits and veggies. These are the first 19 ingredients:
Freshwater trout, salmon broth, salmon, herring meal, dried egg product, potatoes, peas, carrots, flaxseed, sweet potatoes, red peppers, sunflower oil (preserved with mixed tocopherols), cottage cheese, spinach, apples, cranberries, blueberries, alfalfa sprouts, pumpkin puree.
Wow is all I can say! And I think my dogs say the same thing when either fed as a stand alone meal or as a "topper" for their kibble. It's a big hit in our house. So next time you want to do something good for your dog, hit the pantry and grab a can of Petcurean Canned Food, your dog will thank you for it!
Free Trial Bag!
Would you like to try Petcurean today? Then go HERE to download your coupon for a free trial bag. I'm sure your dog will love you for it!
Remember to always show a little #PetcureanLove
Disclaimer: Petcurean has compensated us for being blog advocates of their products, and is providing food for Riley and the girls. Petcurean also has generously donated $500 of Petcurean Dog Food to Lone Star Shih Tzu & Lhasa Apso Rescue in Texas in the name of OhMyShihTzu.com . Lone Star is a wonderful Shih Tzu rescue that is close to my heart for everything that they do for the Tzus! Please know that we only share what we believe is good for your pet, and a brand you can trust. We believe in honest and truthful reviews to protect you and your family. The views of this blog are of my own and monetization has no bearing on my positive or negative reviews of a product.