So with the summer heat now upon us, 101 degrees yesterday and expected 104 by Sunday I thought creating a training center for dogs would be a good idea. Why? This heat can get crazy and with concrete and asphalt all around paw pads can burn very easily. Also with the simple fact of owning 9 dogs its hard to get any alone time with them individually. So once again I have to transform the 'catio' into something a little different. This is what it looks like right now, basically it's just been a catch-all for a lot of the agility equipment and other dog stuff since we made the move this past winter…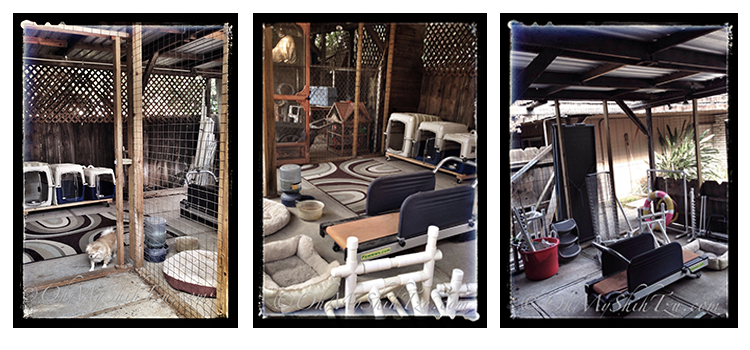 But how?
I needed to make a list of requirements of how I wanted this little room to feel:
Cozy – a place you don't mind being in for a few hours at a time.
Walls – I guess this could go along with being cozy, I'm think canvas sheets (from the painting section of Lowes), grommets & hooks!
Training Equipment – must be easily accessible but safe from any mischievous puppies and their activities.
Storage – Yup… I plan to up cycle some items from the house! Combining 2 households you can end up with a lot of extra stuff.
Electricity – So I can stay warm in the winter and cool in the summer
So how did it turn out? Well I am finally putting the finishing touches this weekend… and I am so excited! Not only will our room be finished, but Trixie & I have some big news for everyone! So come back next week to check out the finished product and our latest news.
We are so happy to be joining our friend Slimdoggy for Fit Dog Friday!! Be sure to visit them and all the wonderful bloggers in todays hop!