Don't you just love summer? I do, but really only when it's not a scorching 110 degrees outside. Well actually by Wednesday & Thursday it is going to get to be around 106 degrees. Yikes! Now if you are a Shih Tzu owner you know what that means. Yup, air conditioning is set to 78 degrees and we all stay inside, at least until the sun goes down.
But these last week we had a couple of days that weather was great and since we had friends over for a few days (puppy sitting) I decided to whip out the Doggy Drencher by Outward Hound. Now I bought this a couple of months ago, but it's just been sitting on the shelf, until now!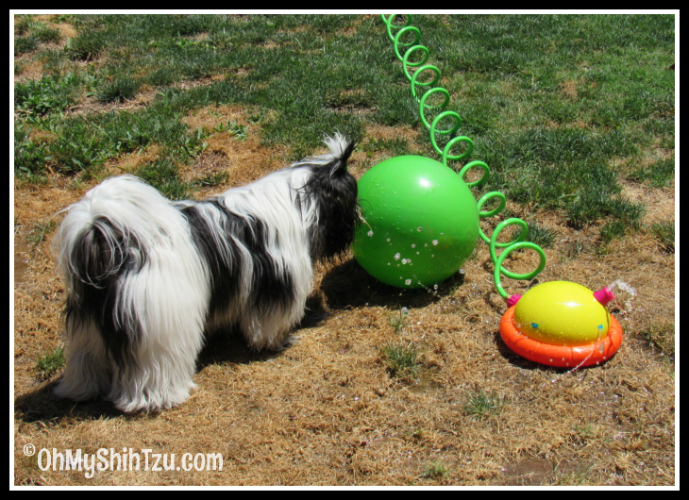 Unfortunately none of my Shih Tzus are crazy about the water, including baby Kevin. This was about as close as he would get, and then it was just a matter of tolerating the water as it was hitting him in the face. What was great about the Doggy Drencher was that the water coming out of it at a high pressure. The Doggy Drencher is perfect for little dogs who don't like to be hit in the face with streams of water. Luckily for our visiting friend Stella the Pug it was perfect!
As you can see they had a great time. But I also want to give a little warning. The southwest and southern California are experiencing a massive heat wave right now so make sure that you take your dogs out in the early morning or evening. Especially if you have Shih Tzus make sure to keep them cool throughout the day by keeping them indoors. Shih Tzus tend to overheat easily and can suffer from heat stroke or heat exhaustion.
This is a non-sponsored post. The item reviewed was purchased at HomeGoods in the Pet Department.