If there is one thing that I've learned is that everything in life requires an effort. Effort equals excellence in our life, at least for the majority of us. And with agility, practicing only when you go to class isn't striving for that excellence that we want. The more we practice the better we get. Maybe some of us have great dogs that pic up everything in agility quickly, but there are some of us that seem to be banging our heads against a wall. Either way it's okay… all the effort we put into this sport pays off.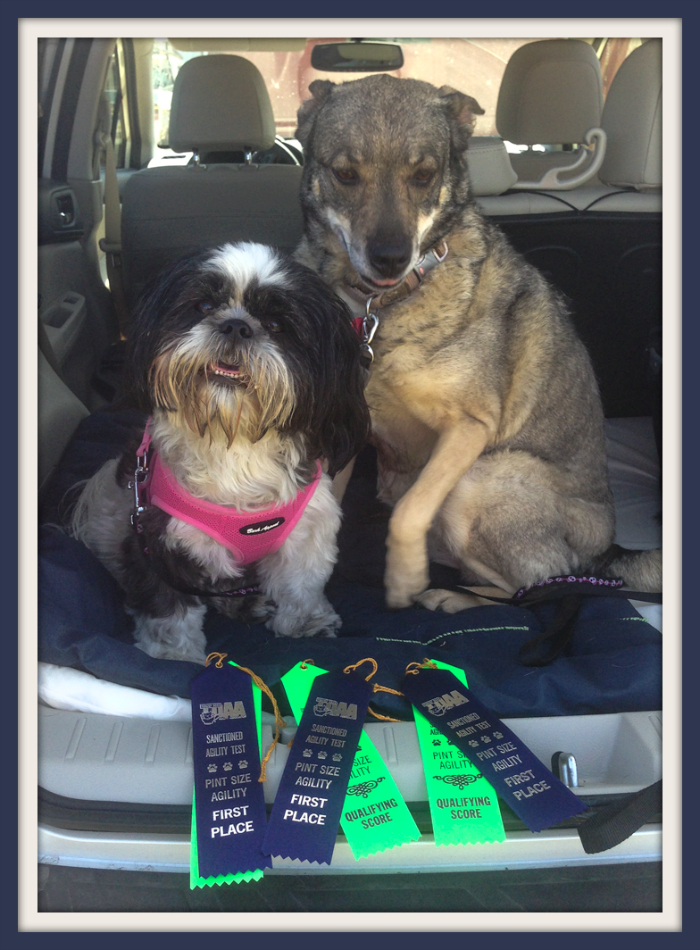 This past weekend Riley and I headed off to our first fun match with our agility club. On the drive to the match I was running the courses through my head. She has been doing great in class lately, and I automatically assumed that it would also be the same on the course. That couldn't have been further than what actually happened. As it turns out my husband will never go to a trial with us, he was too much of a distraction for Riley, she just wanted to be with him. Honestly though, I think my hubby is fine with that decision! haha
I had to come to the realization this weekend that Riley is not Kyra(R.I.P.). And I have to put in more effort to her training… I don't know if we will ever compete to the level I would like to, but one thing is for sure, we will continue to practice and have fun trying achieve our goals together. Tonight we will still head out to practice and have fun jumping over jumps, going through tunnels and enjoy being together!
Today is Monday, and we are joining in with our friends for the Monday Mischief Pet Blog Hop! And also continuing our journey of the alphabet with the 2015 A to Z Challenge!