So this week after a nine month hiatus, I decided it was time for Riley and I to return to the agility field. As I made the long hour and a half drive to our lesson, I was dreading what would happen when we returned. Would Riley run around the field like a crazy dog? Would she refuse to work for me and not take any jumps? I wondered whether the treats I brought would encourage her to work. I wasn't bringing a back up treat so this could be a very bad choice. So you can imagine what a mess I was by the time I arrived! lol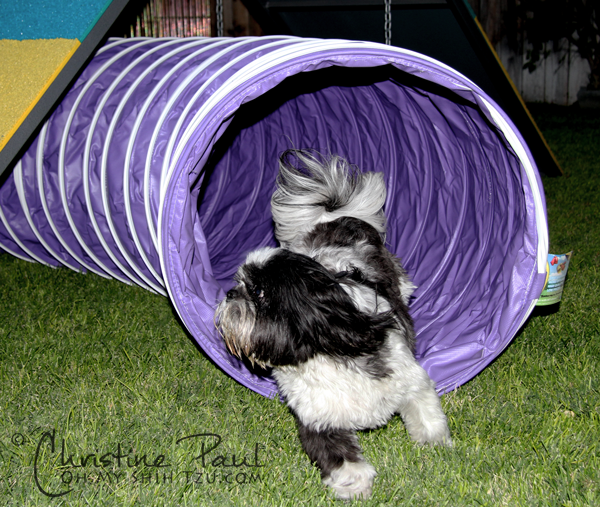 As always, Riley is the smallest in her class. There were about 4 Border Collies, 1 Lab, & 1 Sheltie,breeds which you would normally find at an agility trial. Now in the past 9 months of my absence I have not been a good trainer for Riley when it comes to practicing our agility skills. Other than pulling out a set of jumps about 3 weeks ago and letter her jump for approximately 10 minutes , we haven't trained at all, so I wasn't expecting much. The class we were dropping in on (since they are at the end of their eight weeks) is a foundation jumpers class, the last class she took before getting hurt. So I thought it would be great to kind of have a refresher before moving on a bit. After warming up a bit, we started of with one jump sequences. I was so proud of her as she just jumped over the little 8 inch bars when asked. The night continued up to 3 jump sequences and she loved it. She was happy, bouncy and exuded this little bit of excitement but kept everything under control. With only a few short breaks for water and a little play time, she was like the energizer bunny!
Towards the end of the class our instructor brings out a practice chute. Last year Riley refused to go through the chute every single time. so I thought this time it would be no different, especially as she ran up, in part way and turned back around. I kept my spirit high and cheerfully urged her to go back thru and she did!!! After that first time she followed up with 2 perfect runs through, never again to refuse the chute!
Last year I was wondering if Riley enjoyed going to agility classes. As my service dog I was looking for a release for her to have fun while being by my side. I think I got my answer the other night. The eagerness, joy and her outstanding obedience and performance proved to me that she really loves it!
We are so happy to be joining SlimDoggy, Peggy's Pet Place and To Dog With Love in the FitDog Friday Blog Hop!