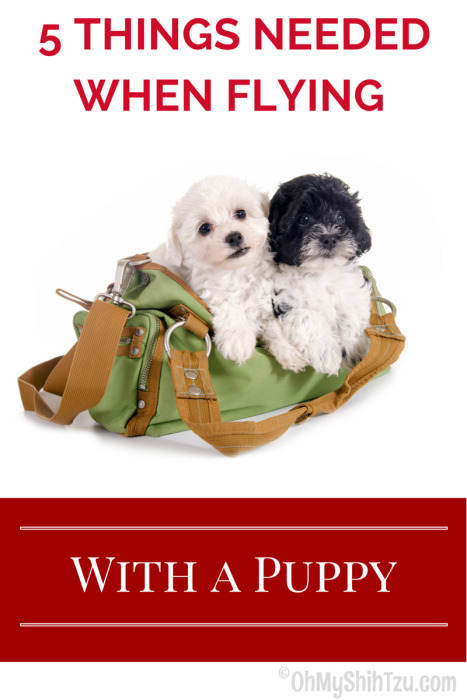 Flying with a puppy or dog can be stressful on a lot of people, but there are a few things that can relieve your stress and that of your dogs. Riley was 15 mos old when she took her first flight and since then she has been to Colorado, Utah, Las Vegas, DC, Nashville, Atlanta and I'm sure I'm forgetting another place. She is a seasoned traveler and has her own set of Pooch frequent flyer miles.
But for our new puppy at 12 weeks old, I was about to experience a whole new adventure. I was sure that I was going to experience a whole new set of potential problem. I didn't know how he was going to react being so young and tiny.
Since our new puppy was born in New Jersey and I'm in California this meant a flight across the country. Now I didn't mind going and picking him up, in fact this is one of the reasons I loved the breeder so much. She cared too much for her puppies to be shipped, you had to physically come for your dog. But I wanted to make sure that the flight was going to be a great experience for the little guy.
Flight Necessities
Soft Sided Carrier
The most important part of a flight is ensuring your pets comfort. Before you fly with your dog make sure to call ht airline before buying your ticket for 2 reasons:
Depending on the airline there are only a certain number of dogs per flight. I am a huge fan of flying Delta Airlines because of the courtesy of the flight attendants while traveling with a pet. But Delta allows 4 pets in the main cabin and 2 in first class.
Maximum carry on kennel dimensions can differ and so can the dimensions of the underseat compartments. Just because you purchase an "airline approved" does not necessarily mean it will be able to be used on all aircraft.
When I first made my arrangements to puck up the new lil man I had made the mistake of not calling the airline before purchasing my ticket. The original flight I had chosen had underseat dimensions that were far to small to slide any type of carrier underneath. Luckily we were able to find a flight with a larger aircraft that had more room under the seats.
When I went shopping for the perfect carrier I never realized how personal it was going to be for me. It had to have enough room yet not be too ugly. Then I found the perfect carrier on my favorite website,
AMAZON
!
What I loved about this carrier is its expandability, yes it has a little patio! Once I placed him under the seat it was easy for me to open and give him the little extra room. This little bit made it easy for him to remain comfortable and calm. Sorry I don't have any pictures of him under the seat, I'm one of those people who immediately turns off their electronics as soon as they are on the plane.
Potty Pads & Ziploc Bags
I'm all about raising a green dog, but since he is so young and obviously not potty trained, disposable potty pads are a must on this journey. But I also brought along zip-loc gallon size storage bags incase we had an accident on our flight and I had a place to dispose of his pads. Luckily for us the flights were poo-poo and wee-wee free!
Water Bottle
The one thing I was grateful for was that the little guy was taught to drink out of a bottle. This made it very easy and convenient as I would just pull it out, open the zipper slightly and he would drink. I purchased the LIXIT Natural Wide Mouth Water Bottle for Pets .
I would highly suggest if you plan on doing any traveling with your shih tzu to teach them to drink out of water bottle. Not only can you easily hydrate your pet on a plane, but if you are traveling with a crate in the back of the car they are easy to attach to the crate and keep your pet hydrated and dry!
Treats
As adults flying we know how to pop our ears to avoid pain that the pressurization can cause. But just as babies on a plane don't know how to relieve the pressure, neither does a puppy. So it was of utmost importance that I bring along some type of treats or kibble for him. One of the treats I brought along were our homemade sweet potato chews which I thought he would love. Well he had no idea what to do with them so once we took off I threw in some of his kibble into his carrier intermittently for him to chew on. This turned out to work perfectly for him as we didn't have any ear issues while flying.
Our flight back from New Jersey was great and the little man made it to California Safely. In addition I must say that when choosing an airline to fly with my pets I always choose to fly
Delta Airlines
. Do you fly often with your pet? If so, what is your must carry item?