Ohh the possibilities of attending BarkWorld.
I'm a newbie to this new world, the blog-sphere as its known, less than six (6) months. Actually when BarkWorld rolls around next month in Atlanta, it will be exactly 4 months that I made my debut in the pet blogging niche of this world. The learning curve to all this has been hard with pages, posts, plug-ins, widgets & sliders, things can be a little daunting. But all of it has been worth it with the friendships that are being cultivated.
As it seems, someone already has her bag packed!!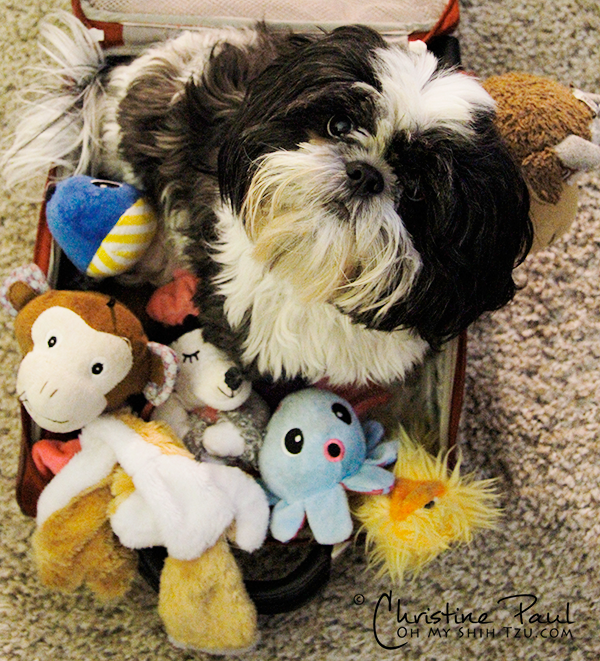 Thanks to the wonderful people of Pruven, from 3M, Riley and I have the chance of attending as they are giving away a free trip to this years BarkWorld!!! Make sure you check them out as they have a great line of products to clean up the little messes around the house that our little ones can accidentally make.

So why do I want to win a trip to BarkWorld?
Five simple reasons:
Training

I was so excited to see that Victoria Stilwell was going to be your keynote speaker this year. If I could be like anybody in the world it would be her. She has helped so many people understand their dogs and help them with problem behaviors all with Positive Reinforcement training.
After many years of training dogs and their people, I had to close my facility for reasons beyond my control. I didn't know which way to turn, so I stopped training completely. I would bump into former clients and they would ask me where I was at and what I was doing, and after telling them the situation I would hear them say over and over, ' but Christine, you are such a good trainer, you really need to be training people'. As a result the Petite Paws Program was born. Scheduled to launch September 1st, 2o13, the Petite Paws Program is an online training resource for people with small dogs using Positive Reinforcement methods, consisting of videos, training worksheets, forums & chats which I will host.
Training is very dear to my heart as it is one of the top reasons dogs end up in shelters. With the economy the way it is, sometimes people can not afford to go to a fancy facility and take group lessons, and maybe that book on the shelf is also not within the budget, but they can log in and get the help they need. With quick short 5-10 minute lesson I will be able to lead people to a happier life with a well behaved pet.
I am so excited about this program, but I would really like to learn how social media can get my program out to the masses!
Networking
In the few months that I have been blogging I have met probably some of the nicest people ever!!! And though it is great to share stories and ideas with each other online, coming together would be so incredible!! Last year Riley and I went to Colorado for canine fitness education training with FitPaws and it was so inspirational, and that was with only 20 people. I can only imagine how I would feel with a few hundred!! I have read from other bloggers how they are on a "high" after they get back and are better bloggers because of the conferecne they went to, and how the connections with other like minded bloggers really inspired them… I would love to experience that.
Social Media
It says it in the tagline, 'Social Media Unleashed' ! Wow… I can't even imagine how much I can learn. Twitter, Tumblr, Triberr, Facebook, Instagram and so much more… I know there is more, I just haven 't gotten there yet! Help!!
The Genius Squad
It's one thing to go to a conference and then come home and try to figure out your notes of what you 'learned', but it is another to have the conference supply you with on-site tech help! As it seems everyday I am trying to make my blog more pleasing to the eye, adding a neat widget, etc. I would love to learn how to 'trick out' my blog from the people that "know"!
Education
It's not what your thinking. Riley the Shih Tzu is very important to me, she makes my life easier and bearable for me. She is my service dog, with me almost 24/7 (unless my husband is with me). Though I am a very friendly person, I suffer from severe social anxiety along with panic induced asthma. With social anxiety disorder, your fear of embarrassing yourself is so intense that you avoid situations that can trigger it. She has been trained to assist and protect me in my time of need. So where does the education come in? People are always interested in what she does for me since she is not a Labrador or Golden Retriever, and the fact she is a cute little Shih Tzu, so I educate them on my illness and how she works for me. It is an illness that I have embraced rather than be embarrassed of, and I want people to know it's okay to take back your life.
To learn more about Social Anxiety, click here.
So those are my reasons for wanting to attend BarkWorld 2013, please share this with all your friends!!