Goats milk for dogs? Yes! And if you are looking for a healthy "milkshake" to feed to your dog and something that you can enjoy also, then we have just the thing for you.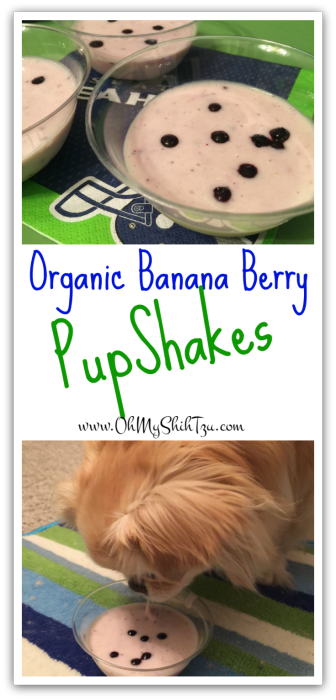 So why goats milk and not regular cows milk? Well it seems that goat's milk is a lot healthier for us and our pups. According to the Journal of American Medicine,
"Goat milk is the most complete food known."
It contains vitamins, minerals, electrolytes, trace elements, enzymes, protein, and fatty acids. In fact, the body can digest goat's milk in 20 minutes.
Also goats milk is easier to digest as cows milk contains alpha-s1-casein protein. This protein may play a critical role in people and pets being allergic or sensitive to regular cows milk as goats milk may have little or no amount of this protein. In addition, raw goats milk, such as Primal Pet Food Raw Goat Milk (pets only) is high in the enzyme lactase, which allows the breakdown of lactose, a milk sugar . Pasteurization and heat destroy this precious enzyme making it hard for people and dogs to digest regular milk easily. Please note though that if you are unable to purchase raw goats milk, the pasteurized commercial goats milk (as seen in the pic below) still has less lactose than cows milk, and easier for dogs to digest.
For this recipe I used ingredients from my local Whole Foods Market so we could both enjoy the shake. When purchasing products I try to purchase from those items that are produced locally. Ideally within 150 mile range, but sometimes that is not always possible. The milk is from Summer Hill Goat Dairy that is within a 50 miles from me and Redwood Hill Farms produced the yogurt which is about 24o miles from us, but still in California.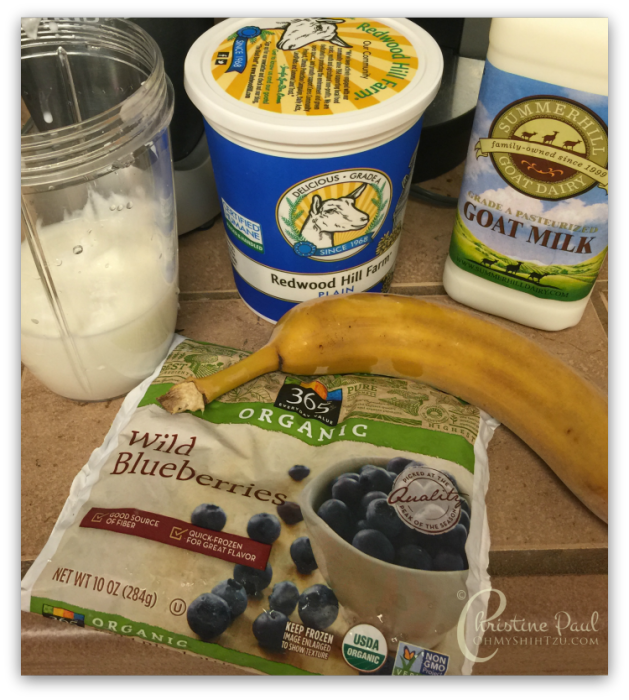 Banana Berry Goats Milk Pupshake
2015-02-02 23:25:17
Serves 8
A yummy organic treat that both you and your pet can enjoy
Ingredients
1/2 cup Organic Goats Milk
1/2 cup Organic Greek Yogurt (Goat)
2 semi frozen bananas
1/4 cup frozen blueberries
Instructions
Place all ingredients into blender or smoothie machine, blend until smooth. Serve!
Notes
Since all my girls are under 20 pounds, I give approximately 1/4 cup per serving to each pet.
Oh My Shih Tzu https://www.ohmyshihtzu.com/
Thanks for stopping by today! We will be reviewing the yummy Himalayan Dog Chews Yaky Charms next Tuesday, as they were a big hit for our girls during the Super Bowl.
Today we are joining Sugar the Golden Retriever & Kol's Notes for Tasty Tuesday.