Do you have a dog that has special needs and a limited ingredient diet is needed? You may have already tried a few dog food brands, but your dog is totally uninterested in eating. They tend to be bland and not as tasty as their regular food. Sometimes it can be like pulling teeth trying to find a dog food for your dog with sensitivities. But sometimes limited ingredient diets will contain some type of fowl, chicken, turkey or duck, but your dog doesn't like any of those! Luckily for you,
Petcurean
has a Limited Ingredient Diet (L.I.D.) with Venison that is Grain-Free and Gluten-Free.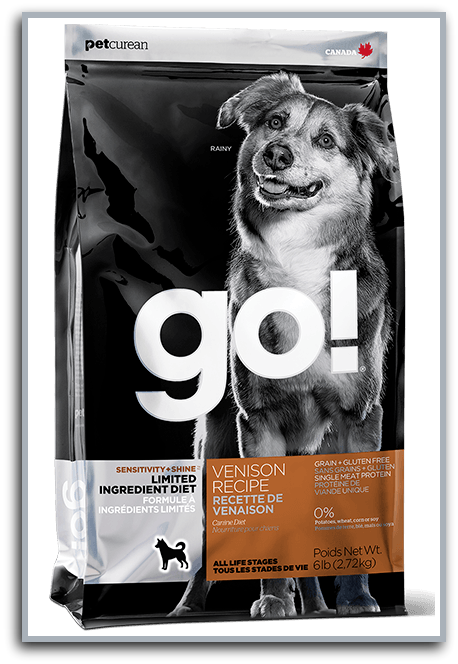 I'm a big reader of labels, my food and especially the food of my dogs. And the first 5 ingredients make me feel confident that I am feeding a healthy diet to my dogs.
De-boned venison
Venison meal
Tapioca
Peas
Pea flour
I am also pleased to say that you will NOT find the following:
Wheat
Corn
Soy
Gluten
By-product meals
Growth hormones
Artificial preservatives
Seeing a fresh meat source as the first and second ingredient is of utmost importance. If you are not seeing this (or a species specific meal) then your pet may not be getting the proper nutrition he/she needs. Economy brands and many "premium" brands will use potatoes, brown rice or other inexpensive ingredients as the main ingredient. But one of the most important things about the Petcurean L.I.D is that Katie & Riley go nuts for this recipe, and it's the one I turn to when they start becoming picky eaters. Because as anyone that is owned by a Shih Tzu knows… being a picky eater is just part of the deal!
Now I think this is a great food for your dog, but don't take my word for it, why don't you try out a bag for your self! Just go to this link: FREE 1/2 POUND TRIAL BAG of NOW FRESH™ or GO!™ fill out the form and submit for a coupon for a free trial bag at your local specialty retailer.
Disclaimer: Petcurean has compensated us for being blog advocates of their products, and is providing food for Riley and the girls. Petcurean also has generously donated $500 worth Petcurean Dog Food to Lone Star Shih Tzu & Lhasa Apso Rescue in Texas in the name of OhMyShihTzu.com . Lone Star is a wonderful Shih Tzu rescue that is close to my heart for everything that they do for the Tzus! Please know that we only share what we believe is good for your pet, and a brand you can trust. We believe in honest and truthful reviews to protect you and your family. The views of this blog are of my own and monetization has no bearing on my positive or negative reviews of a product.
Remember to always show a little #PetcureanLove