For the past couple of weeks we have been saving money in preparation for our trip to the 2015 BlogPaws, for us that means taking a little break from our dog agility lessons that we drive 1.5 hours each way to attend. If you didn't know, here in Central California our gas prices are approximately $3.35 per gallon! And that is with a Costco card! But just because we aren't going to our lessons doesn't mean that we are skipping practices!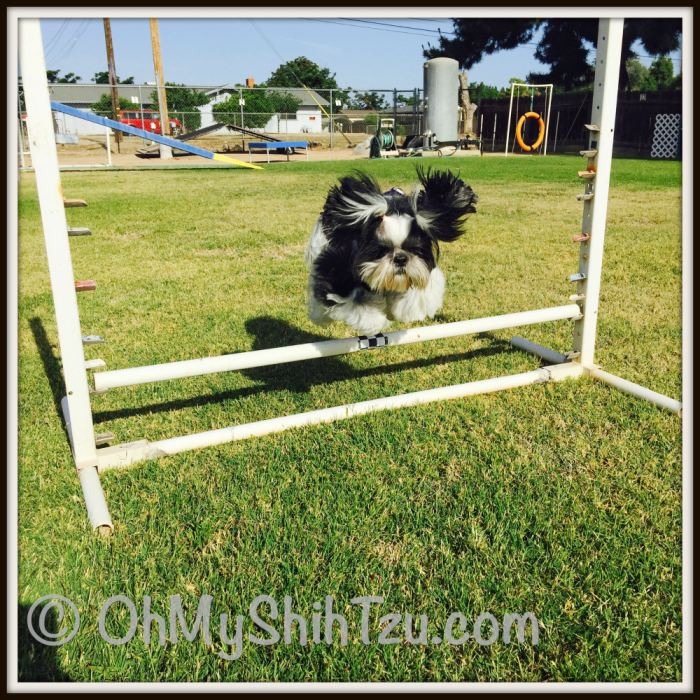 A few weeks back we found a great dog agility field that we can practice on for a nominal fee! We immediately jumped on that and have set practice mornings of Wednesdays and Fridays. Though we have the field all to ourselves for an hour, we normally practice only about 30 minutes total, with about 10 minutes of play time too!
Making agility fun is very important for Riley, not only does it keep her motivation up, but she also looks forward to our time out on the field. For the past couple of years I have to admit that I was unable to find that special little spark that got Riley going when it came to agility. There was just no motivation on her part, and if you have a Shih Tzu you know that can mean the stubborn streak will rear it's ugly little head if you can't keep a Shih Tzu interested and motivated.
Now this isn't a review of product, but I discovered Riley loves Chuck-its! And it doesn't really matter which one it is. We have a couple of different flyers and a fluffy puffy thing that she just loves to chase after, for her this is not only fun but also a reward!
I wanted to share a little glimpse into our practices, though it's a little hard when you're the only one on the field, and only an iPhone in hand!!


Because we believe participating in sports is a way to keep your dog fit and healthy, we are once again joining FitDog Fridays hosted by Slimdoggy, To Dog with Love and My GBGV Life.