So last week was our anniversary of 7 years!! And to celebrate we purchased a pair of annual passes to Disneyland and decided we were going to hit the road early Thursday morning and spend a couple of days there. Well that went as planned but what happened the day before was not! An emergency trip to the VET!!!
Yup, that is my handy work of wrapping a foot after it has gone through plate glass!! I didn't think my house was dangerous, I live in a 1930's craftsmen with little individual plates of glass in the window. The dogs always run up to the window, hit it because either the mailman is there, someone is walking down the street, or the elusive invisible squirrel is present. Well I don't know what happened on Wednesday, but I was in my office when I heard a boom. I didn't think anything of it until I walked out into the dining room and saw little bloody paw prints everywhere. I started tracking them and they were all around JoeJo and his bed. I wondered how the heck he could be bleeding. Then I followed them into the kitchen and Riley sitting in the middle of the floor (not unusual for her), I lifted her paw up and there was a little pool of blood where her paw was. I immediately snatched her up and started running around frantically trying to find out why she was bleeding, it all lead me to the front door. The center plate glass was shattered into a hundred little pieces. I tried to block the area and headed to the vet.
She ended up staying all day at the vet, for her little operation. Turns out the glass entered at her wrist and traveled up inside her leg. Luckily, nothing major was hit!! Here is another instance I am soo grateful for Trupanion Pet Insurance!! They immediately processed the claim by the end of the next day!!! Very fast.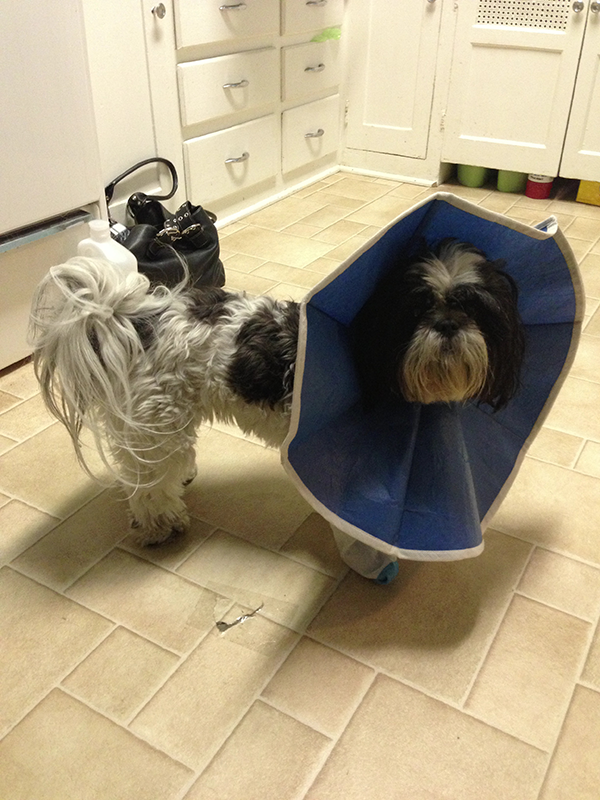 My little flower child with her  little soft recovery cone and a little sock on her foot to cover the drain.