Do you know what's in your dog food? I have to admit that I am a sucker for great marketing and there are many dog food companies that create an amazing marketing concept right on the bag or can. But don't let them fool you. Just because you see a wolf on the bag or text that tells you to get "back to basics" of how your dog really needs to eat, does not mean that the ingredients are of high quality.
Today I wanted to share Petcurean dog food ingredients that you can find on the back of their bags or cans.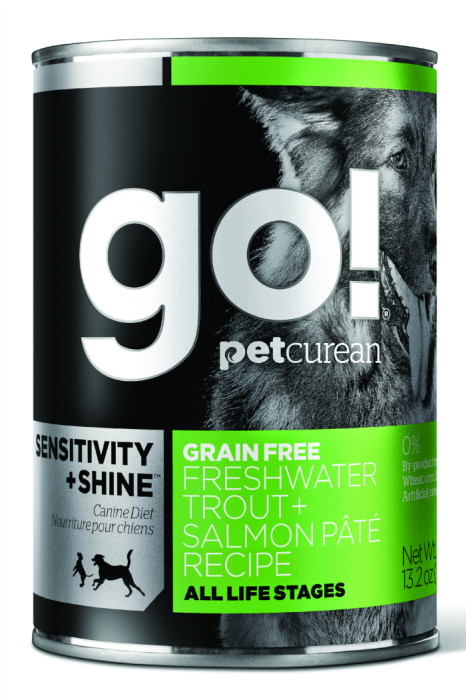 In past posts I've shared the wonderful line of dry dog food lines by
Petcurean
including Go! and Now Fresh, but did you know that each of these lines also include canned foods? Today I am sharing the first five ingredients of Go! Sensitivity + Shine Grain Free Freshwater Trout + Salmon Pate canned food.
The first three ingredients are self-explanatory:
Freshwater Trout
Salmon Broth
Salmon
Seeing a fresh meat source as the number one ingredient is of utmost importance. If you are not seeing this (or a species specific meal) then your pet may not be getting the proper nutrition he/she needs. Economy brands of pet foods use inexpensive ingredients which means you have to feed more to get the proper nutrition they need. So if you have to feed more than you have to spend more… hmm doesn't seem that economical to me, especially if you end up having health problems also.
The following ingredients:
Herring Meal – this species specific meal is a great source of protein, DHA & EPA
Dried Egg Product – A great source of protein and Selenium, this is the whole egg without the shell in a dehydrated form. It contains Riboflavin, Vitamin B12 and phosphorus.
Don't Shop By Price Alone
If you are shopping at a specialty pet supply, make sure you are not shopping by price alone. Look for a food such as Petcurean that contains either a fresh meat source or a species specific meal as the first ingredient. The great thing about Petcurean is that you can rest assured their species-specific meals do not contain feet, feathers, entrails, etc.
Are you curious about Petcurean GO!™ ? Why don't you try out a bag for your self! Just go to this link: FREE 1/2 POUND TRIAL BAG of NOW FRESH™ or GO!™ fill out the form and submit for a coupon for a free trial bag at your local specialty retailer.
Disclaimer: Petcurean is providing food for Riley and the girls as we are blogger advocates for Petcurean. Petcurean also has generously donated $500 worth Petcurean Dog Food to Animal Compassion Team of California (ACT) in the name of OhMyShihTzu.com . ACT is the wonderful no-kill rescue that started us off with our first Shih Tzu Katie! But please know that we only share what we believe is good for your pet, and a brand you can trust. We believe in honest and truthful reviews to protect you and your family.