So last month I introduced you to the Now Fresh Red Meat Recipe. This month I would like to introduce you to the GO!™ family of recipes by Petcurean. Within the GO!™ family of recipes you will find several recipes, each with a specific function.
GO!™ Fit + Free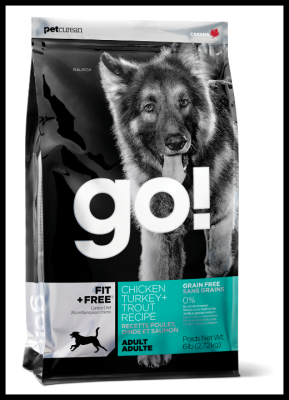 Fit + Free is grain free and jam-packed with nutrient dense proteins. In fact, the first 6 ingredients are meat proteins. This is the highest protein content of all the GO!™ recipes along with being a lower carb diet. Fit + Free has recipes for Puppy, Adult and Senior dogs.
GO!™ Daily Defence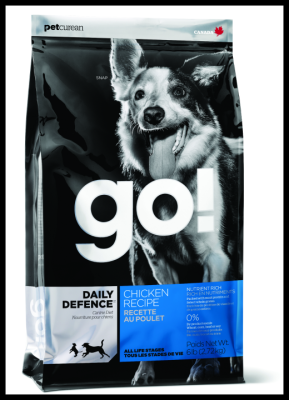 For those of you who have dogs without sensitivities to grain, there is Daily Defence. This recipe includes a whole grain , digestive aides from pre and probiotics. In addition it is antioxidant rich from Omega oils and fruits and veggies! It is also perfect for all life stages.
GO!™ Shine + Sensitivity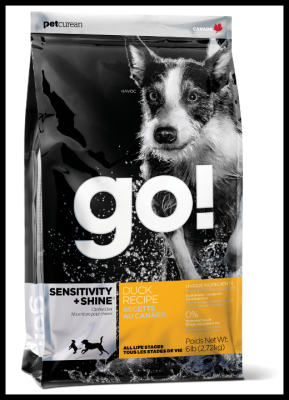 Does your dog have food sensitivities or allergies? Then this may be the family of recipes for you. Unique single source proteins are used such as duck, salmon, turkey, along with a limited ingredient venison are available. What is cool about the Turkey recipe is that not only is it grain free, but they use lentils as a carb source rather than potatoes or grains!
If you like to add in canned food to your kibble, or just feed canned as a stand alone, don't worry, GO!™ has a canned food for each specific function.
Are you curious about Petcurean GO!™ ? Why don't you try out a bag for your self! Just go to this link: FREE 1/2 POUND TRIAL BAG of NOW FRESH™ or GO!™ fill out the form and submit for a coupon for a free trial bag at your local specialty retailer.
Disclaimer: Petcurean is providing food for Riley and the girls as we are blogger advocates for Petcurean. Petcurean also has generously donated $500 worth Petcurean Dog Food to Animal Compassion Team of California (ACT) in the name of OhMyShihTzu.com . ACT is the wonderful no-kill rescue that started us off with our first Shih Tzu Katie! But please know that we only share what we believe is good for your pet, and a brand you can trust. We believe in honest and truthful reviews to protect you and your family.