Last month I introduced you to Petcurean Dog Food and their two lines Go™ and Now Fresh™. But I'm sure you are wondering how the girls are doing with a switch from home-cooked meals to Kibble. I am happy to report that with 6 little ones the girls are happy, healthy, full of energy with beautiful shiny coat.
Recently Petcurean added a Red Meat recipe to the Now Fresh™ line. I love Now Fresh™ because it has zero grains, zero rendered meats, zero by-product meal or artificial preservatives. When feeding kibble this is very important to me.
The Truth About Other "Premium" Brands
Why? Do you know what rendered meats and by-product are? Let me fill you in. Animal by-products are the ground, rendered and cleaned, slaughtered meat carcases that can included feet, necks, bones, head, intestines, feathers and even undeveloped eggs. Yup, this is just gross. What is really sad is that most of these by-product meals come from "4D" sources. The 4 d's stand for "Dead, Dying, Diseased or Disabled" and are rejected for human consumption. And by-product for pet food labels are not required to include actual meat.
So now you may really Want to know more about Petcurean Now Fresh since you know I would never feed my girls those other "premium" brands.
3 Key Benefits of Petcurean Now Fresh™
Omega Oils Omega 3 & 5 oils are known as essential fatty acids because our bodies, and that of our dogs, are unable to make them on their own. These means these Omegas can only be obtained in our diet. Linoleic acid is an omega-6 polyunsaturated fatty acid that plays a critical role in skin health, it is found most commonly in plant and animal fats and oils, such as canola oil and chicken fat. Omega-3's are important for metabolism and optimal health. Omega-3 fatty acids include ALA, EPA & DHA. Salmon oil is a source of EPA and DHA, while canola oil and flaxseed are sources of ALA. It is important to have a balance of both omega-3 & -6 to ensure optimal health since both play different roles in the health of your dog.
Pre & Probiotics Probiotics are the good bacteria and yeast that when maintain at appropriate levels can improve the health of your dogs GI tract. Prebiotics contribute to your dogs health because they feed the probiotics in the GI tract. But the probiotics can get out of balance if you have to give antibiotics, or your dog is under stress, among other circumstances. But Now Fresh includes probiotics such as Lactobacillus acidophilus and Entercoccus faecium along with the prebiotic found in inulin which is made from chicory root.
Coconut Oil Did you know that coconut oil when given regularly can improve digestion, metabolism, immune function and their skin and coat? Unlike a lot of other oils, as a medium chain triglyceride coconut oil is easier for you pet to be digested and absorbed, and since it goes directly to the liver, it is converted into energy and not stored as fat!
Petcurean Now Fresh™ Red Meat Recipe
What we love about the Now Fresh Recipe is that is made with 100% Fresh lamb, venison, pork and 100% fresh Omega-3 & -6 oils from coconuts and canola oil. What is great is that the normal size kibble is fine for all the little mouths I need to feed.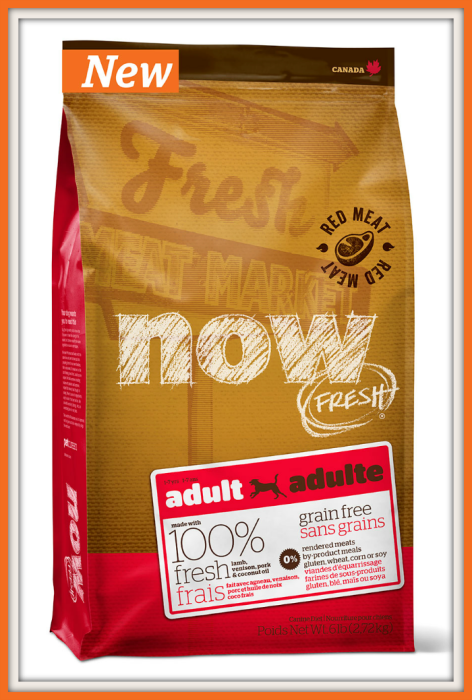 So if you want to give it a try, here is a COUPON!
Disclaimer: Petcurean is providing food for Riley and the girls as we are blogger advocates for Petcurean. Petcurean also has generously donated $500 worth Petcurean Dog Food to Animal Compassion Team of California (ACT) in the name of OhMyShihTzu.com . ACT is the wonderful no-kill rescue that started us off with our first Shih Tzu Katie! But please know that we only share what we believe is good for your pet, and a brand you can trust. We believe in honest and truthful reviews to protect you and your family.