Tour of Primal Pet Foods, Inc.
Last week I had the opportunity to visit a raw dog food company,
Primal Pet Foods, Inc.
in San Francisco. I was very excited because I love Primal! From their raw food recipes, freeze-dried foods, bones, goats milk & now treats, my girls love it all. So when my friend Rachel from
My Kid Has Paws
and I were invited to tour the facility we jumped at the opportunity.
As you know I am almost always accompanied by Riley, so when we walked into the production portion of the Primal facility I think Riley thought she was in Heaven! She began sniffing the air and taking in the wonderful smells of, well to me it smelled like tasty liver and her little tail began to wag. Yup, this little dog knew exactly where she was at!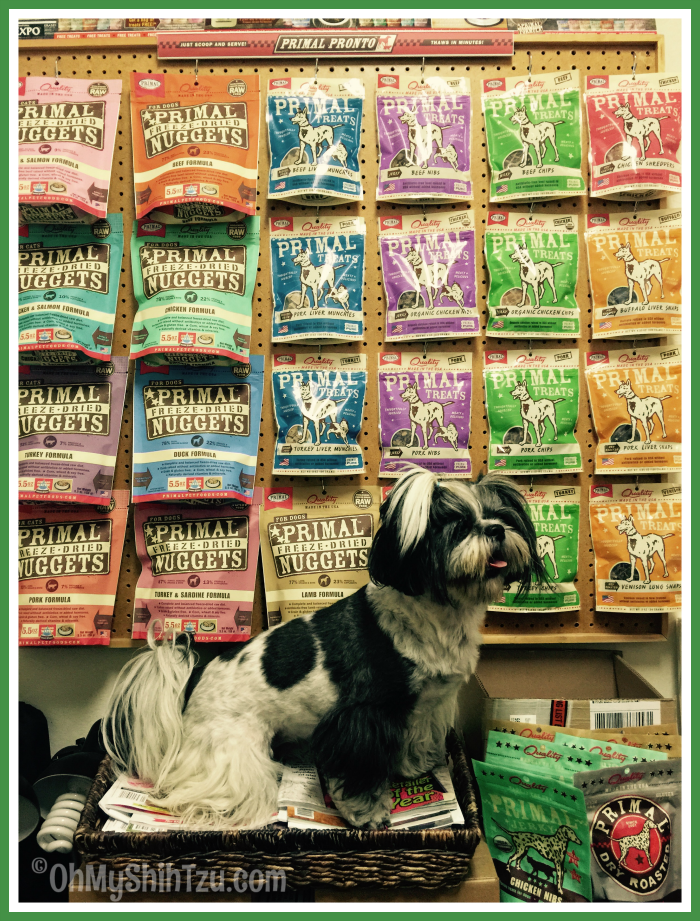 Safety
When you walk into the facility one thing you will notice are pallets and pallets of food that is ready to be shipped. But here, things are not flying through the doors to get to market, Primal has what they call a "test and hold" protocol. Every pallet has a "hold" sticker on it. Multiple samples are taken from each pallet and those samples are tested by a third-party laboratory for Salmonella, E. coli, and Listeria. When those tested samples return with confirmed negative results then a "released" sticker is placed on the pallet and they can be then shipped to the distributors and stores. But the safety doesn't stop there! When those items are shipped they also include a temperature tracker to insure that the frozen products remain from Primal to your local retailer! Yup there is no thawing allowed on the way!
Quality of Ingredients
All their formulas, mixes and grinds use fresh, antibiotic and steroid-free whole muscle meat, organ meat and meaty bones with no additional hormones. They meats come from the same ranches we get our quality meats from, there really is no difference here, this is 100% USDA, human-grade, all-natural ingredients. If you are wondering why it doesn't say human grade on the packaging, as humans we normally do not eat ground bone and organ meats such as heart, lungs and livers
And the fruits and vegetables that go into the Formulas and Mixes are wholesome, certified organic fruits and vegetables. It's kind of like your dog eating from the farmers market or Whole Foods.
It was so nice to see the products that go into their foods and treats. Knowing the quality and freshness of everything makes me even more happy knowing that I am feeding my animals the very best when I serve Primal!
There is a lot that is involved in making raw dog food and knowing Primal's dedication in delivering the highest quality safest pet food beginning with wholesome human grade and organic ingredients is a company that I can get behind. They believe feeding your dog this way makes your dog (or cat) a happier, healthier pet, and I couldn't agree any more.
With the witch hunt lately on raw dog food companies in full swing, you may be asking yourself about the quality control of these companies. It is somewhat concerning to me that the FDA is taking the stance that it does against many of these companies, my good friend and dog nutrition blogger Kimberly of
Keep The Tailwagging
recently wrote
3 Reasons the Raw Recalls are More About Humans than Dogs
. If you are in any way leary and believe what people who don't feed raw are saying about it, I suggest you read and ponder a wee bit on it.
Disclaimer: Primal Foods, Inc in no way is responsible for the content of this post. This is not a review of the company or it's products. This is a brand I have known and trusted for many years. But please know that we only share what we believe is good for your pet, and a brand you can trust.