Some times things are not planned but knowing when to seek emergency vet care or whether to wait until your vet opens his doors the next morning or rushing to the PET ER can be a little frustrating to say the least. But over the last few years I've learned through experience when to drop everything and head to the vet, or take proper care of my dogs until I can get there in a few hours.
Cuts
Normally a cut wont need that much. Unfortunately if a cut is bleeding and wont stop, then it is possible that an artery might have been nicked or worse. Though at this point you may feel like panicking, DONT. The best thing to do is immediately apply pressure and secure the wound with a bandage. While applying pressure to the area be sure not to check to see if the bleeding has stopped, as lifting the bandage could cause the clot to come undone and continue to bleed. If the first bandage has soaked through, apply another bandage on top and continue to the ER.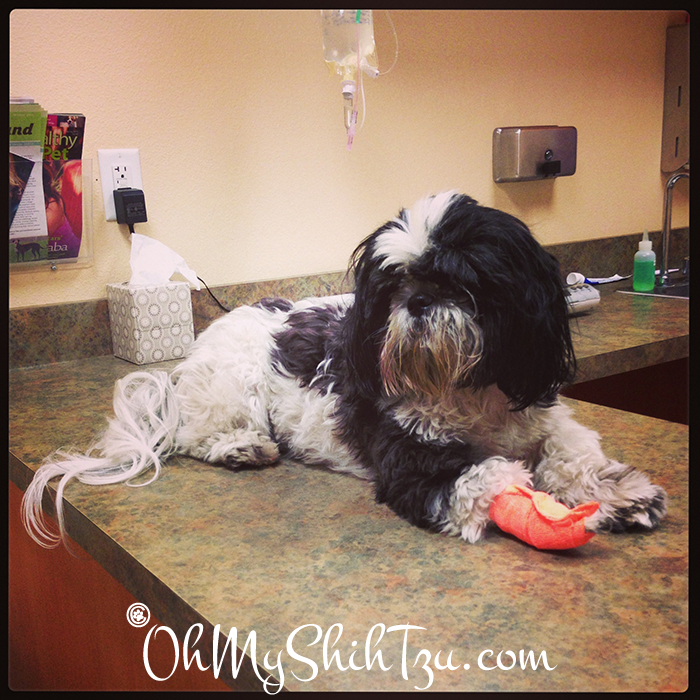 Diarrhea & Vomiting
Vomiting can be fairly common in dogs. Basically if they've eaten some thing bad that their tummy's did not agree with, almost like us when we've eaten bad Mexican food. When vomiting occurs in our house I normally withhold food and water for 12 hours and administer pepcid per my vets orders. When this time has passed I offer water and wait 2 hours to make sure the pup is able to hold it down. If all is well we give a little white rice and chicken combo to make everything easy on their tummy. With diarrhea we only withhold food but not water.
I only follow these procedure for a mild case of each. If my dogs are vomiting several times within an hour or the diarrhea is of projectile nature, it always means an emergency visit to the vet.
There are circumstances in which you would not wait to see a vet:
A puppy that is under 16 weeks of age
A Senior
Any other dog that maybe ill or fragile and dehydration could cause complications
Eyes
Any and every problem should be seen by a vet ASAP. We as pet parents aren't able to tell if a scratch will cause vision loss. To help your pet out until you can get to the vet, put a cone of shame on them so they aren't able to rub their eye and make things worse.
Seizures
Get your pet to the vet ASAP. Be sure to protect your pet and yourself during a seizure, keep away from their face so you do not get accidentally bite. If the pet is near furniture, gently move them using their back legs or tail. To transport them to the vet, piece them on a blanket and make a little hammock in the back of your car to keep them safe.
Poisoning
This can be a post all by itself. It's summer time and a lot of times can seem even more tasty than normal. If you witness an ingestion call the vet immediately, do not induce vomiting unless instructed by the vet as it may cause more damage. Many poisons can act quickly causing kidney and liver damage along with complete failure, including:
Slug & Snail Bait
Firecrackers
Anti-Freeze
Grass seed & Mulches
Chocolate
& the list goes on
Be sure to protect your pet this summer!
We are happy to be participating in this weeks Thursday Barks and Bytes Blog Hop hosted by 2 Brown Dawgs and Heart Like A Dog.