I just love agility. Riley loves lure coursing, cats, goats, birds, chickens… you get the picture. So that means with Shih Tzu agility training comes frustration in my house or should I say my backyard and on the agility field. Granted I am fully aware that Riley is not a border collie or Aussie… and that is fine. From the beginning I always said that I chose to do agility with Riley because she is a Shih Tzu and with that it can be a little more challenging. I embraced the challenge… but there are times it can be so frustrating.
Distractions
Yes, like I said Riley loves all sorts of animals and these can be huge distractions. And when she doesn't want to listen to me, well she just doesn't. It seems the older she gets the more stubborn she gets.
See what I mean? She doesn't listen to me… and if you were wondering about the sheep I keep referring to in the video. Yeah… nope they are goats I do know the difference but for some reason I kept calling them sheep!
Our Nemesis
Yes at this point in time I, or shall I say WE have an nemesis. It's the TEETER!!! (insert dramatic music here!)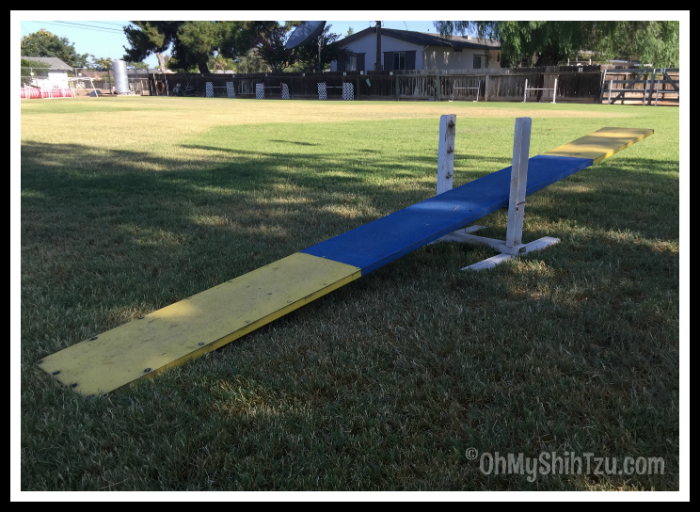 Now I will admit that I have steered clear of this obstacle at times… working more on our jumps and serpentines, weaves, tunnels, etc. But for the past couple of months now I have really given it my all in trying to get her over her fear, which I find completely odd. Because it's not completely the whole movement of the teeter, as she works out with balance tools such as the FitPaws Donut… it's the whole thing of the teeter dropping down from underneath her that freaks her out. And as a pet parent with an extreme fear of heights I can totally understand.
If you can tell in the video, I started to get frustrated at her. This is the point when we just have to forget about everything we are doing and just play and have fun for a while and move on to another obstacle. Agility is supposed to be fun for both of us and I think that is one of the most important things to remember. I want her to love agility as much as she loves lure coursing, at least that is my dream anyway. But even if she never loves it as much as I do, I always want to make sure she is having fun.
In actuality, days are not as bad as this day… yes this all happened the same morning. I am optimistic that today's agility session will be smooth as silk. We will be doing a few jumping patterns, throw in some weaves along with hitting the teeter for a couple of rounds. We throw in a few cardio sessions with my trusty 12 foot whip! No it's not what you think… I tie a white plastic bag on the end and Riley chases it around and around!!