Disclaimer: Oh My Shih Tzu did not receive monetary compensation for this review. We did receive a complimentary product in exchange for our honest review.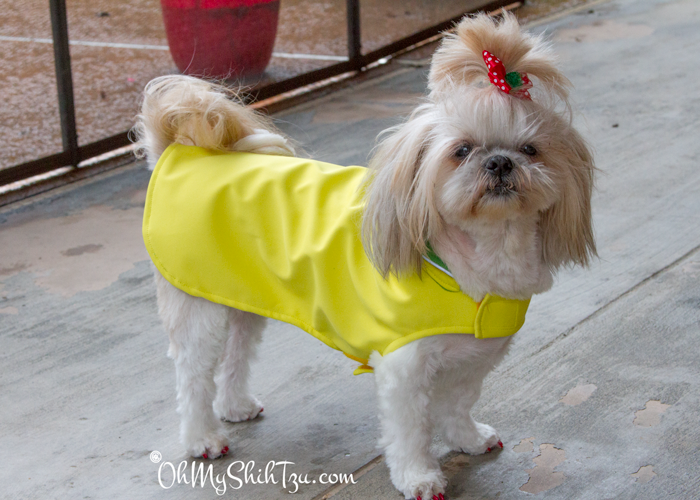 I can't believe that it's December, let alone the fact that winter is almost here (officially). The rain has finally arrived making the mornings a little crazy as you can barely see down the street thanks to the thick Tule fog! It is at this time of the day that the girls and I usually head out on our walks, but just like exercise is a necessity for a happy healthy life, so is lookin' good! I like to keep the girls comfortable on our walks so I needed to find a jacket that was both light weight and added great protection from the wet (foggy) and cold (evenings) weather. So the great folks at Gold Paw Series sent me an Astoria Overcoat to try.
The Astoria Overcoat is a favorite of the Shih Tzus, not only for its comfort, but it is also very stylish. I don't know about you, but in the mornings when I bring out the harnesses to leash everyone up they all go crazy. But this coat has a d-ring leash attachment. Everyone thought I was just getting Katie dressed but I was able to slip out the door and attach the leash once we were out of the line of sight of everyone. At first I was a little hesitant just to use the d-ring, but the coat was very secure on her, which I loved. But that wasn't the only thing I liked about it,
5 Great Features of the Astoria Overcoat
Made in the USA! – I LOVE this! I think this so wonderful about the Gold Paw Series Company.
Made with 25% recycled Polyester – Gold Paw Series is conscience about its impact on the Earth.
Reflective trim on collar
Waterproof
Stretchy without loosing shape, which means it's also ohhh so soft.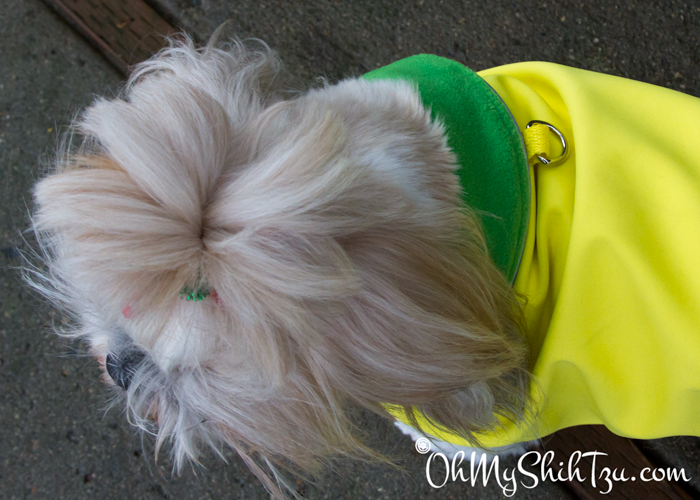 To buy or learn more about the Astoria Overcoat, check out Gold Paw Series. Gold Paw Series also has a great video Fit Guide on measuring your Shih Tzu for a proper fit of their clothing line.
Katie the Shih Tzu (model) , who is approximately 14 pounds, slim and normally wears a baggy medium in off the shelf wear, wore a size 14 comfortably, allowing for layering of fleece or other clothing underneath. Riley would definitely need a size 16 as she weighs in at 18 pounds and is a bit of a bigger girl with an athletic build.
So if you are looking for a nice winter/spring coat that you are able to easily layer with fleece, I would totally recommend the Astoria Overcoat!
Disclaimer: We would like to thank Gold Paw Series for providing Katie with an Astoria Overcoat. There was no monetary compensation for this post. All opinions are that of Oh My Shih Tzu. We share information we feel is relevant and of importance to our readers. Gold Paw Series is not responsible for the content of this article.