Living with 9 dogs there are lots of special moments to be had around my house! But I would like to share a very special moment that happened last week as a part of Nature's Recipe® #RecipeForMoments.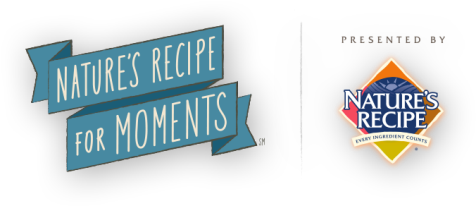 Approximately 11 days ago I had to undergo surgery on my sinuses for the 4th time, number 11 total surgeries. Though I don't share to often, I suffer from PTSD and social anxiety disorder among several other invisible illnesses. But it is with Riley's help that I am able to lead a semi-normal life. Originally I had planned to share those special moments with Riley, but it seems Katie and Daddy had other plans while I was recovering from my surgery. I found these pictures on my camera before one of our weekly photo shoots.
Please note the following images may be disturbing to some! Actually they are only disturbing to me because I am very embarrassed by them. They were taken the day after surgery while I was bundled up in my dogs fleece blankets and Katie looks so messy.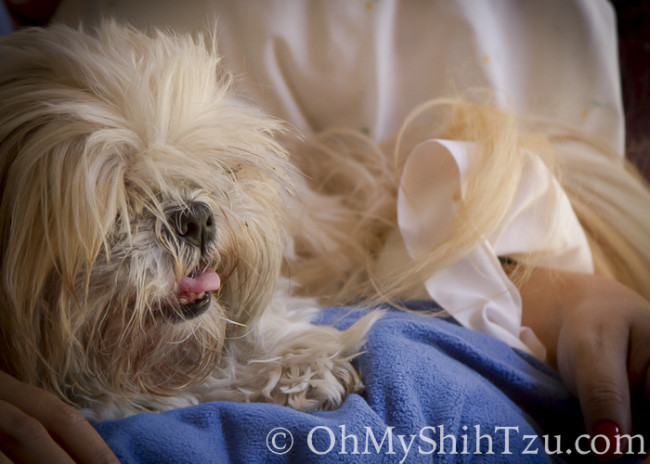 If you were to describe the other Shih Tzus in the house in 3 words it would be affectionate, beautiful and alert. But Katie is different, those 3 words would be independent, beautiful and alert. Affectionate is not in her vocabulary. Though a lot of Shih Tzu owners will tell you how loving their Tzus are, Katie is not one of them. Love doesn't come easy with this one! But that doesn't make me love her any less, when she does give love it fills my heart so much I can hardly contain it.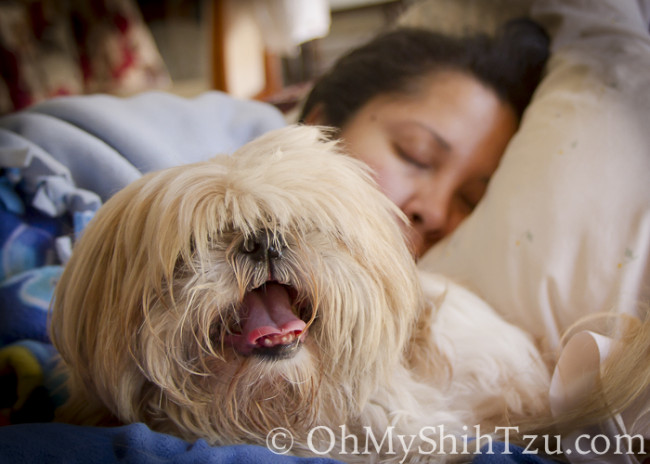 I think this picture says it all , and Katie is saying, "Hey Look! I am taking care of Mommy while she is sick cause I love her sooo much!" I often wonder if she and I are bonded with one another, but that is something I will no longer question.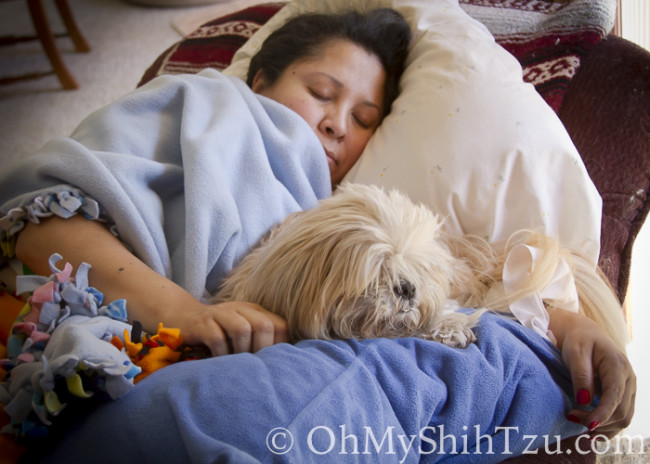 "It's time to sleep mommy, but don't worry I am always by your side, watching over you, protecting you" ~ Katie Shih Tzu
Everyday is such a blessing. Health is such a blessing. With a dog beside you, well life is just perfect no matter what the circumstances are. Remember, a dog is a key ingredient to lifes #RecipeForMoments.
I want to thank my husband, Froggie for taking these pictures while I was recovering from hopefully my last sinus surgery.
Our story is a part of the #RecipeForMoments blog hop hosted by BlogPaws. Link up below to share your story of the bond you and your pet share. What do you think your pet feels in your special moments? Five random U.S. winners who link up their blog post will win a Nature's Recipe® lightweight collar camera to capture special moments from their pet's point of view. See BlogPaws for official rules and details.
"This post is sponsored by Nature's Recipe on behalf of the BlogPaws Blogger Network. I am being compensated for helping spread the word about Nature's Recipe for Moments on behalf of Nature's Recipe, but we only share information we feel is relevant to our readers. Nature's Recipe is not responsible for the content of this article."