It's Tasty Tuesday and we are whipping up some yummy strawberry banana frozen dog treats. This past weekend temperatures rose into the upper 90's which was a nice little break from the weekend before when they rose to the 100s and it's just the beginning of July. But this year I decided to put a little spin on my strawberry banana pupsicles with a change of two simple ingredients.
The first change I made was by adding Pro-Bloom by The Honest Kitchen. If you have never heard of it, Pro-Bloom is a great supplement for your pups nutritional needs. A shelf stable instant goats milk, it is packed with digestive enzymes and probiotics.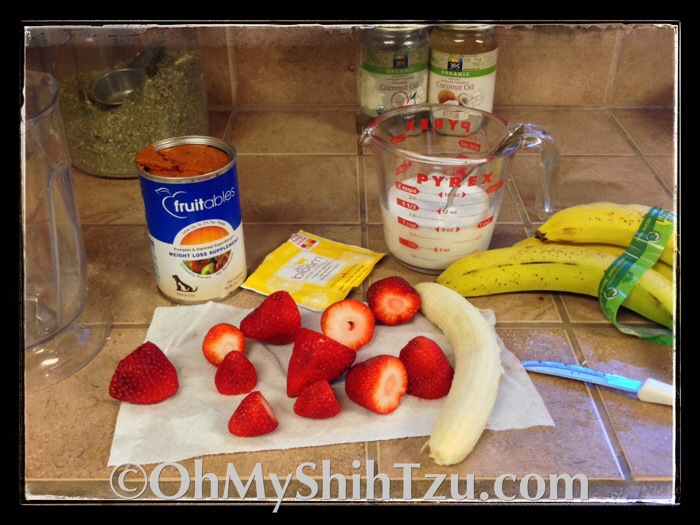 The second change came as a result of Trixie's ongoing mommy-supervised weight loss plan, I have substituted regular canned pumpkin with the Fruitables Weight Loss Supplement of Pumpkin & Oatmeal. I love it because it also contains vitamins and minerals to help keep her healthy and strong.
Strawberry Banana Frozen Dog Treats
2014-06-08 19:54:01
A Yummy frozen treat for hot weather.
Ingredients
2 Ripe Bananas (mashed)
6 Strawberries (sliced)
1/2 cup Fruitables Weight-loss Pumpkin
1 cup Pro-Bloom
Instructions
Combine mashed Bananas, 1/2 cup Fruitables WL Pumpkin & 1 Pro-Bloom & mix well.
Divide mixture into ice tray
Freeze & Serve
Notes
I use silicon mini-cupcake pans to form the treats for the small dogs, and used a medium Kong frozen dog treat form for the bigger dogs. To make it easier to remove the treats from the trays, I sprayed the trays with Coconut Oil. Coconut Oil is great for dogs coat, skin & overall health. For best results, freeze overnight.
Oh My Shih Tzu https://www.ohmyshihtzu.com/
The girls just love the treats on a warm summer day. I normally place them on a plate as the treats can be a little sticky… but then it's not any fun unless your food gets a little messy!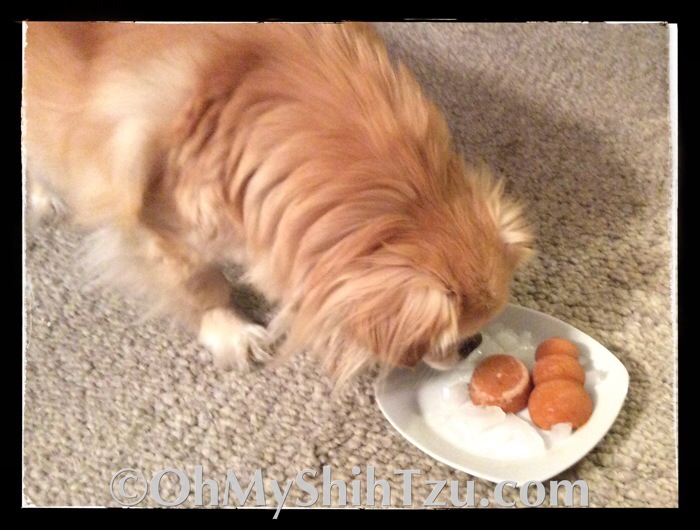 We are happy to be joining Kol's Notes & Sugar the Golden Retriever for Tasty Tuesday! Be sure to check out their blog for tasty recipes and join in the hop!