You might be thinking… what the heck? We take them for walks, isn't that enough? How do we strength train and condition our dogs, they can't lift weights! Well I am going to show you how through the wonderful world of FitPaws Equipment and other items around your house, you will be able to strengthen your dogs core muscle groups. I will be using all of my dogs for this (8 total), to give different ideas of how to use the equipment for different sized dogs.
Just as in humans, dogs also have core muscle groups; shoulders, back, stomach & rear legs (glutes). As many of you know, as dogs age, they begin to lose muscle tone, especially in their back legs. For many dogs this can be a death sentence as it leaves them with the inability to walk. With proper strength training we can help delay or even stop this from occuring by strengthening those muscles.
Disclaimer
I am not a veterinarian or pet medical specialist. As with any new exercise or nutrition program please consult your veterinarian.
Items to be used:
Box:Please make sure the item you are using is stable and will not slip or move during your workout. This is especially important if you have a shy or nervous dog, you don't want the object to move because they will never want to get on the object. As you can see I have several different sizes and objects. A hat box with Contact paper on top, a plastic shoe box, an Ikea stool & a FitPaws small balance disc (for use next week)
Treats: Something small soft and yummy that can be eaten quickly. Treats can be left over plain chicken cut up small, uncured hot dogs, string cheese or even their favorite kibble.
Flooring: I purchased a small section of rubber matting to keep the area stable as I have laminate floor. This was purchased at Lowes for about $20. (only half is shown)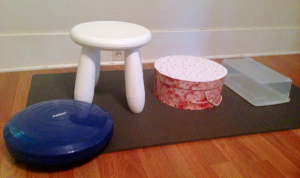 Shih Tzu Training: Steps
Step 1: Lure the dog onto the object, treat for 1 paw up on object. (repeat 3-5 times) This can be as simple as a bashful paw placement, or even if they lift their paw. When training new things, I brake down the behavior into small bits. It can start with the dog looking at the item, I like to use a clicker, but you can use a marker word such as 'yes' immediately followed by the treat. Then we can move on to the next step. If the dog readily gives the desired step, move on to the nest step. But please do not move so fast as to the dog losing interest.
In the picture on the left Riley is giving a bashful touch, after repeating that a few times (3-5 is a suggestion, you may have to repeat it more or less before moving on). She stood up on the platform with 1 leg hanging off. I count that as 1 paw on.
Step 2: Lure the dog onto the object, treat for 2 paws on object. (repeat 3-5 times)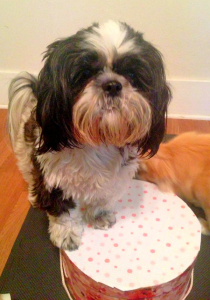 Step 3: Lure the dog onto the object, treat for 3 paws on object. (repeat 3-5 times)
Sorry there is no pic for this, my dogs are no longer hesitant in getting on the perch, so I can't capture this!
Step 4: Lure the dog onto the object, treat for 4 paws on object. (repeat 3-5 times)
Next week, we will move on from this basic position. Once your dog has the hang of this ask them for 2 or 4 paws up on different objects around the house or out and about. Remember unlike teaching obedience commands, we want the dog treated each time they perform the desired request. If you have a dog that is on a diet, calculate the treats that are used into their daily intake, or use their kibble that they would normally eat in place for the 'treat'.