Today we celebrate the first Super Shih Tzu Saturday with a cute little guy I met on Facebook almost a year ago!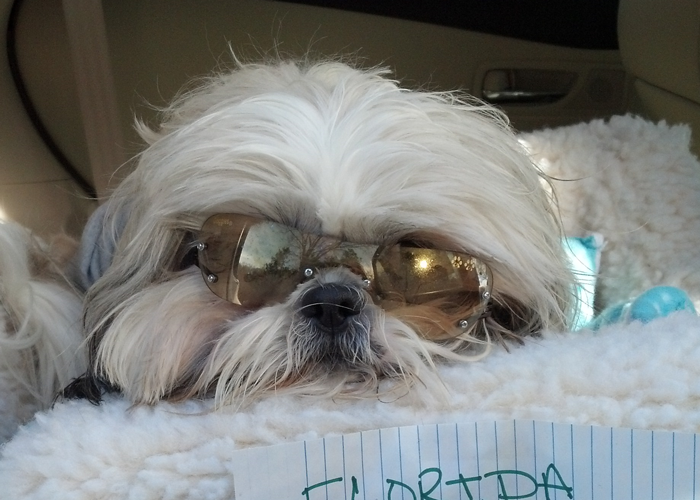 Name
Grady White Roney
Nicknames
GW, Gradums, Puppa, Puppia, Pup Pup, Stank Face
 Age
4 years, 7 months old (10-29-2009)
Gender
Male
What are your favorite foods? Do you like fruit or veggies?
Banana is my all time favorite food!  I love all fruits and veggies.  My mom keeps switching my dog food but so far I've loved them all.  I'm very food motivated 😉  Currently I'm eating Vital Essentials Freeze Dried Beef Nibblets – raw without the messy face 😉
What is your favorite toy?
Hmmm – that's a hard one – I love them all.  My favorite inside toy is probably my big stuffed bunny.  Outside I absolutely LOVE LOVE LOVE to chase after a bouncing golf ball.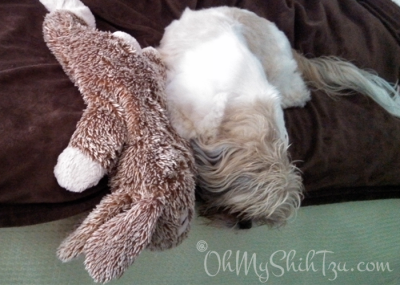 Do you have a special place you like to be, either your bed, a trip to the beach or even a secret hiding spot?
When my mom's home I just want to be right beside her.  When she leaves and doesn't take me with her (which isn't that often) I have my very own bench by the front window and I lay on it and watch until she returns.  When her car pulls into the driveway I jump down and run to the door and welcome her home.
Do you perform any special tricks?
Yes, I can hypnotize my dad and get unlimited head and belly rubs.
What is the funniest thing you have done to your mummy and daddy?
That's a hard one – I make them laugh every single day.  I guess it was the first I rolled the house when they had to nerve to go out and not take me with them!  I've since rolled her house every opportunity I get.
Do you have a bff?
My BFF is Katie a 5 pound Yorkie – don't tell but she's also my girlfriend!!!
This last question is for your mummy or daddy. If you could talk, what celebrity or person would you sound like?
If Grady could talk (which I sure wish he could) he would sound like the late great Johnny Carson…..he's just that funny!
A special Thank You to Amy Roney for submitting Grady as our first Super Shih Tzu Saturday Doggie!