So day one after losing my boy and I know I have to keep myself occupied and the easiest way to do that is sharing a yummy dog treat recipe. I can only say this is going to be a difficult journey since I have been a stay at home mommy for him for the last year and a half. Since he had Canine Cognitive Dysfunction he would occasionally cry out when I was in the kitchen if he were in the living room. I have heard him cry out every now and then when I am in the kitchen, and when I turn around I realize it is my mind playing games with me because he is not in the living room.
So in tribute to my little guy, and the fact that I have been wanting to join this blog hop since I found out about it. In fact, I have a fascination with mini-cupcakes, so most of the recipes will be mini-cupcakes.
Why do you ask? Two reasons really. The first is I live in the Central Valley of California, and today alone is going to be 107 degrees outside. Yes, it is as hot as heck! And I am not going to turn on the stove to make anything, I even have my husband grill chicken at night & toss it with a pre-made salad from Sprouts so I don't have to heat up the kitchen! Secondly, I bought this cute little Breville toaster oven that can do it all and with a mini-cup cake pan… we'll you get the drift.
Banana Mini-Cupcakes

2014-11-16 20:12:32

A fun little cupcake muffin for your dog!

Ingredients

1 1/2 cup all purpose flour
1/2 tsp baking soda
3/4 tsp ground cinnamon
3/4 cup canola oil
2 smashed over ripe bananas
1/3 cup honey (local preferred)
1 large egg
1 3/4 cup rolled oats

Instructions

The oven was pre-heated to 400 degrees.
All dry ingredients were mixed together and then I added the oil, smashed bananas, honey and egg and whipped by hand until smooth. Lastly I folded in the oats.
I lightly sprayed the mini-cupcake tin with coconut oil, then dropped 1 tsp of the mixture into each well of the mini-cupcake tin baking each batch 10 minutes, until lightly golden brown. Cool the cupcakes completely on a wire rack. This yields approximately 40 mini-cupcakes.

Oh My Shih Tzu https://www.ohmyshihtzu.com/
I decided that the cupcakes lacked a little something, so I decided to try adding a little icing (yogurt & peanut butter), which turned out to be a big hit with all the girls!!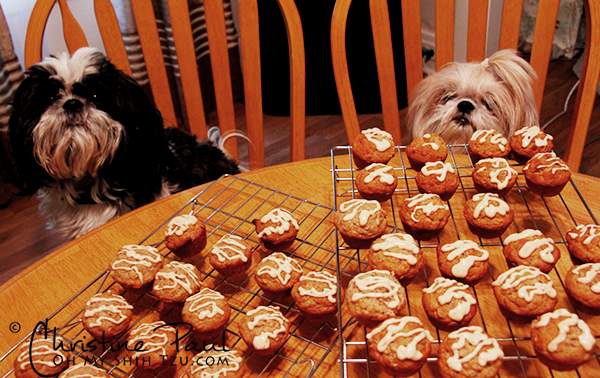 So then it was time for Riley to try… I couldn't take a picture as fast as she gobbled it down. She actually held it in her mouth for about 30 seconds, but wouldn't look at me for the shot!!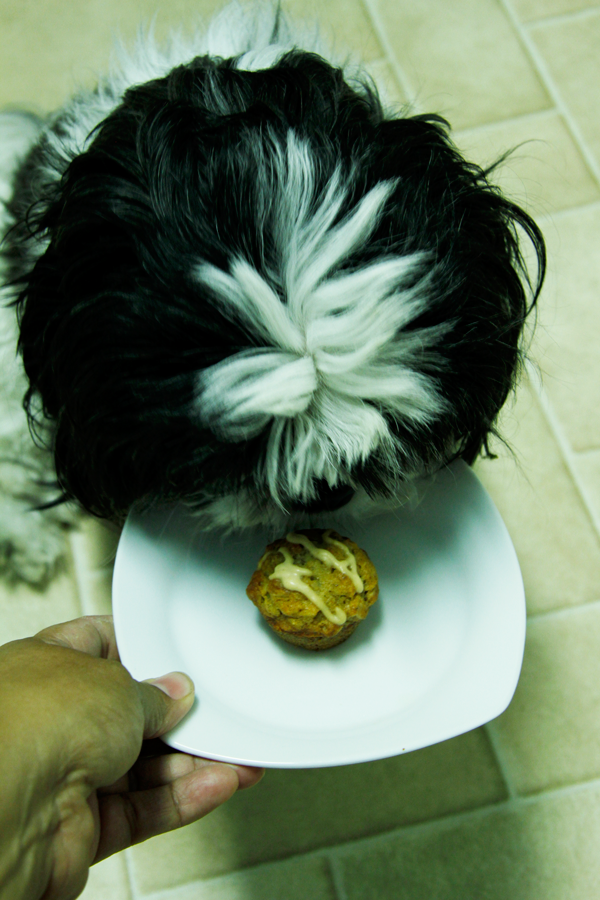 Thanks to Kol's Notes & Sugar the Golden Retriever for hosting this hop!!