Coconut Oil for Dog Weight Loss
When JoeJo was alive, I began searching for different natural products to make his life a little bit better and to extend it as much as I could. From dehydrated raw dog food to whole food green supplements. All of which he responded to very well and I think contributed greatly to him living as long as he did with all his ailments.
But with his passing, I continued to do research on holistic remedies for the rest of my pack. Recently I came across a statement that shocked me. According to Dr. Bruce Fife, author of The Coconut Oil Miracle, "Coconut oil elevates metabolism and boosts energy by helping to regulate the thyroid." Could what I have been looking for all this time to help Trixie's weight problem been sitting on the kitchen shelf? The answer is a big YES!! As it turns out there are many benefits from the consumption of coconut oil. It's just that western society hasn't grasped the full knowledge of this wonderful nut! But for hundreds and thousands of years Pacific Islanders have eaten a coconut based diet with low if non-existent rates of cancer, heart disease, diabetes or other illnesses that afflict western society.
You might be thinking… come on… how do you really know that coconut oil is the reason why Trixie is losing weight? Well let me give you a little background on Miss Trixie.
Two years ago I rescued Trixie from a backyard breeder who was 'clearing out her stock'. When she arrived at my home she was a portly 12 pounds. As it seems, the breeder had trouble for the past few years keeping weight off of her, especially since she was having litter after litter. At first I really didn't think much of her weight as she was placed for adoption to find her fur-ever home, but before she could find her home she needed to be spayed so she didn't have to have babies anymore. Well… a couple of days before she was scheduled to get "fixed" I walked into the kitchen and there she was in her little crate… (see pic below) … now how in the world could I give that up! She had found her fur-ever home.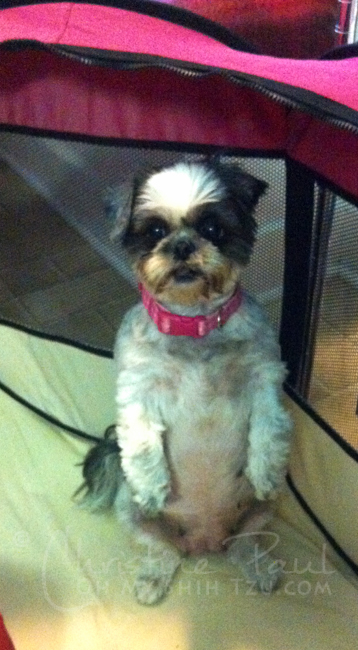 After her spay though she began to gain weight… and it seemed that almost overnight she went from 12 lbs to 17.5! Now I want you to know that I am not a person that gives a lot of treats… if I am giving treats it's because we are learning something new. So after about 8 months we headed off to the vet to figure out what was going on as everyone kept telling me to have her thyroid checked. Well all the blood tests indicated that her thyroid was working normally, nothing wrong there. So the decision was made to place her on a Rx diet. After several months, about 5, she dropped 1.5 pounds. Yup that's all, and to top it off the food that she was eating had so many ingredients that it scared the living daylights out of me.
After researching how to make meals from home, raw diets, etc. I decided to start feeding The Honest Kitchen Preference and adding my own proteins. With this switched she dropped a little more weight over a couple of months and maintained this weight for another couple of months until August 1, 2013. This was the day I had dreams of grandeur and we were going to start an exercise program, incorporating daily walks. Well as you may know that really didn't happen. But what I did change was the addition of coconut oil into her diet.
The recommended daily dose is 1 tsp per 10 lbs of body weight. I initially started Trixie out with 1/2 the recommended amount for the 1st week to avoid any bouts of diarrhea, upset stomach, etc. The second week I began giving the full recommended amount but I divided the dose out into two meals. As the third week rolled around I noticed a huge difference in her energy level and activity around the house, from running down the hallway to chasing the cat at a seconds notice… this girl was movin'!
So last Wednesday I knew I had to place her on the scale for a FitDog Friday update, so on the scale she went and I waited for it to even out. I saw the number come up "13". I couldn't believe this, it had to be wrong, so I decided to wait until the morning and re-weigh her again. The following morning I received the same result! Wow! A 1.5 lb weight loss in 4 weeks.
This wasn't a clinical study (duh), but I have seen the miracle that is Coconut Oil. To read more about this wonderful ingredient, and what it can do for your pet, I highly suggest reading The Health Benefits of Coconut Oil from Dogs Naturally Magazine or you can just watch this video of Dr. Karen Becker explaining the benefits and uses of Coconut Oil.
Today we join Kol's Notes & Sugar the Golden Retriever in the Tasty Tuesday Blog Hop