Living in a household with 6 little dogs and 3 big dogs can get a little pricey. First off I am not the DIY type of gal. Yes it would be great to make everyone homemade treats ( I've done that once, mainly so I could participate in a Blog Hop) or make cute little jackets (sewing patterns & material purchased, still waiting by sewing machine) but I'm not that person, though I would love to be!
Like most women I love to shop. Well sort of, I have a passion for food and I can get lost in a grocery store for hours, and I love buying stuff for my dogs.  I used to be the girl that had a ton of shoes in her closet, but no more. Now a days you will find me year round in flip flops, Old Navy Jeans and a T-shirt. But living in a house full of Shih Tzus and honorary Tzus it's important to make your dollar go far. So today I am going to start sharing all my great finds at local retailers and online.
So this weekend I headed off to one of my favorite stores, HomeGoods. If you have never been to one and you have one in your area I suggest you go. Heck throw everything down and head over right after you finish reading this post! They have one of the best pet sections I have ever seen and it changes every week! With one week to go before Christmas I am a little behind in getting gifts for all the littles but I was able to snag the best chew toys in the world! I found the Holiday editions of the goDog dino stuffies!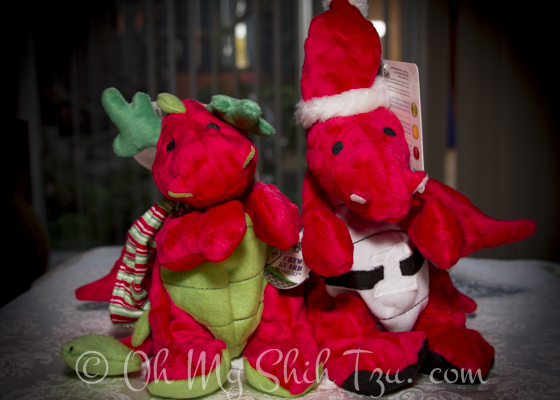 These are probably the best stuffies ever as they have a special ChewGuard technology that my little ones can't destroy. And as you can see from the price tag below I got a very good deal! Even when researched on a major online retailer, I still got a better deal from HomeGoods.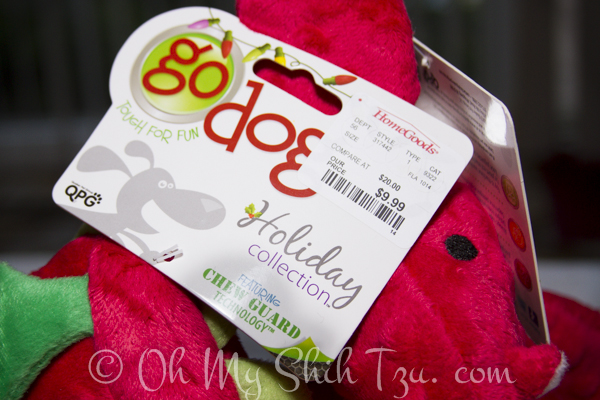 Since the weather has been a little chilly, I thought it would be wise to stock up on a few sweaters. Again we found great deals as most of the sweaters were $12.99 (as modeled by Trixie) and a few for $9.99 (as modeled by Ise). These sweaters are so warm, thick and stylish…perfect for our little Tzus!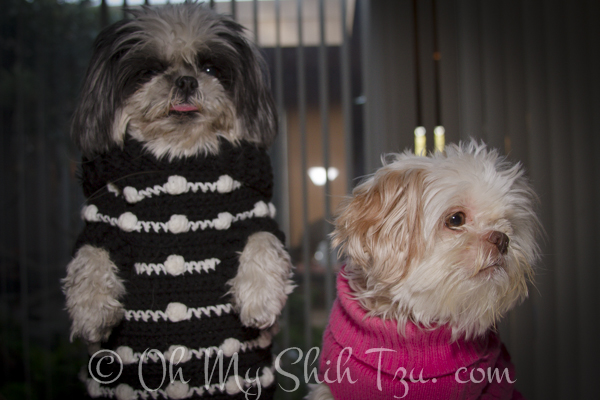 So if you are looking for stylish sweaters or fun chew stuffies for Christmas, head down to your local HomeGoods to see what they have!