To quit or not to quit? If you are thinking it's the A to Z Challenge, well, we are not quitting, we just missed a couple of days as I had an allergic reaction to a recipe I was making for Healthy Latina Living. I'm okay, but we didn't have our posts scheduled out of Friday and Saturday last week, but don't worry, we will publish those this week alongside the current A to Z posts.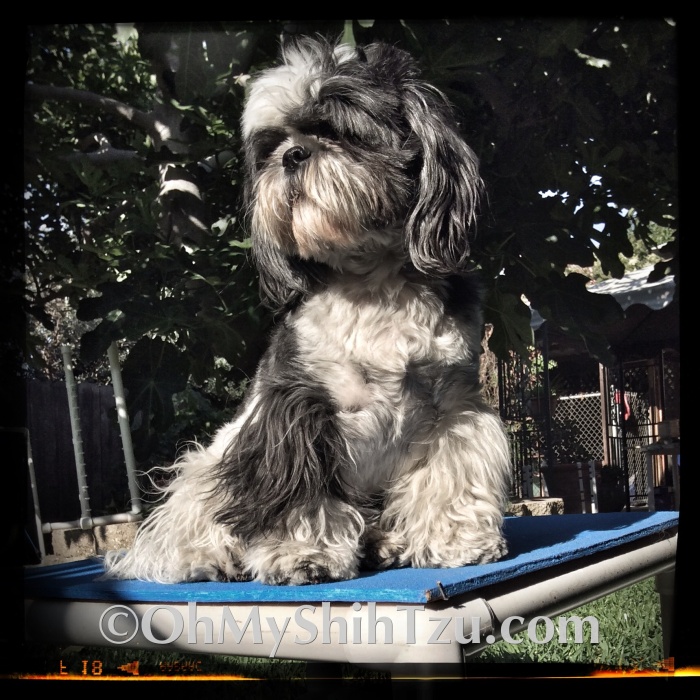 But I wanted to tell you about a struggle you may or may not encounter on your agility journey.
Las month Riley and I participated in our first fun match. As I have mentioned before, she did not perform the way I want, heck she pretty much refused everything. Now mind you she almost never does this during practice. But with the presence of 'Daddy' being at the agility fun match, she wanted nothing to do with me. Unfortunately, my coach said something to me that…. well this is what she said, ' Christine, we have to be realistic about Riley. She is probably not going to be the competitive agility dog that you are wanting.' I'm not mad at this statement, because it is the truth, and sometimes the truth stings a little bit. I finished that morning at the fun match by practicing the teeter with her, but by the time we got home I decided on my next breed of dog.
The Problem
But don't worry, I am loyal to my Shih Tzu's and will continue rescuing those that need homes, but hopefully by the end of the year we will be adding a new little one to our pack. She will be a special little dog, a different bred, just for my love of agility. So does this mean that Riley is quitting agility? HECK NO!!! As many of you know, we drive once a week to practice which is 88 miles away. What you don't know is the problem I face with her, she does not like my backyard. For some reason the little princess does not like the feel of the grass and walks on it like she is walking over hot coals. This makes it close to impossible to practice at home. So I do what I can with her, weaves and the teeter, but I never get out the dog walk or A-Frame…. and trying to convince her to practice jumps is like pulling teeth!
The Plan
Since I have come to the conclusion that she doesn't like the grass, I've been researching what I can do. So I am happy to say I have found an agility facility in my area (15 miles away) that rents out their field, no lessons just field rental. I am hoping I will be able to schedule 2 days a week at this facility. In addition, there is a playground and sports park close to my house (2 miles) where I can set up equipment. The playground is a great place because it has 2 large open soccer fields, 2 baseball fields and is set back away from the road. I ordered easy to set up and carry agility equipment to practice jumping drills and our weaves.
I've made plans before, all in my head, but yesterday this was all scheduled in a calendar. I am making dates with my dog to accomplish all our goals.
The Goal
Our goal by the end of July is to complete 12 weave poles without encouragement, on her own running straight through. We also want to be ready to run an AKC Jumpers with Weaves class, which I know she can do.
I will also be cross training her to compete in lure coursing, a sport I think she really loves.
So the moral to this story… do what you love, set a goal, make a plan to reach that goal. Even if you don't have the dog that is cut out of something, maybe you can make it work, don't give up on them.
I wanted to share a video… I think it shows a lot. Though I am not giving up on Riley in Agility, I am open to trying other things that she may like. My goal is to make her happy.
Today we resume our journey on the A to Z Challenge! Thanks for stopping by and remember we love your comments!