Bark in the Park 2014!
My favorite sport is baseball!! I can go to a college game, a Triple A team, or even a major league game (Mariners Rock!!) to me it doesn't matter. I love sitting in the stands and rooting for the home team! I think one of the best things about Fresno is the fact that we are home to the Grizzlies, Triple A team to the 2012 World Champion San Francisco Giants, 17 of which have played on the Grizzlies line up. So this year my husband and I decided to buy a mini-plan which included tickets to 12 games, which equated out to at least 2 games a month, sometimes 3.
As many major league teams across the nation, we have a Bark in the Park night. It is really not a true BITP night, no dogs are allowed and there is only one rescue group that is represented. I really need to figure out how I can help them to make this a true BITP Night!!
Tonight though, Riley was going to join me. Normally I go with just my husband and everything is great, but today he was suffereing from a horrible migraine. So tonight Riley joined me for a night out at the ball park. You may be wondering how I could take her… well Riley is my service dog. You see I suffer from Social Anxiety Disorder and she enables me to do things I wouldn't want to do alone, or can't do alone, for some reason there is a huge performance anxiety issue with this. Anyway, when my hubby is not with me she is… she does a lot more, but I'll explain that at another time.
Tonight is her first night out at Chuckchansi Park to watch the Grizzlies. Since my hubby wasn't there I took his ticket and she sat in his seat… so glad I brought her little pad to sit on 🙂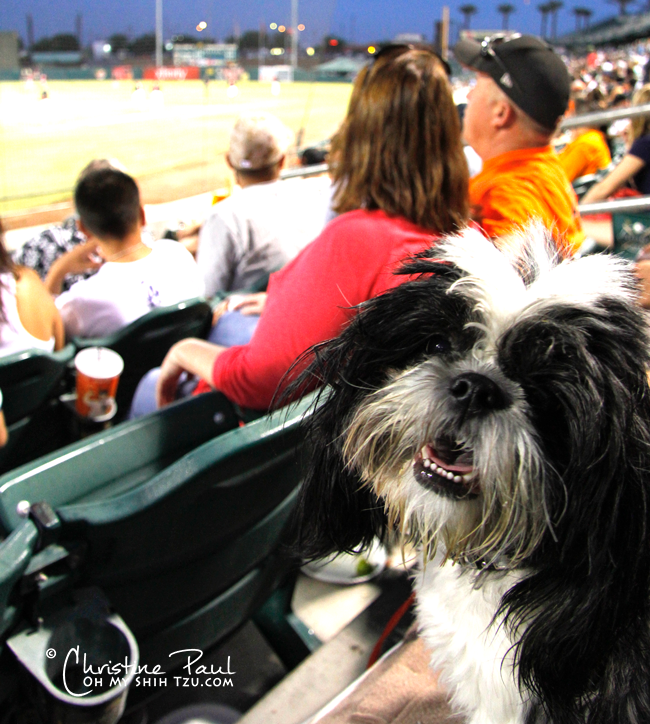 It's not to late to go to a Bark in the Park game, there are a few major league teams with a few nights scheduled, if you want to go, hurry as tickets sell out fast!
If any of these games are in your area, please be sure to follow the links about requirements to enter the park. Tickets tend to sell out fast so don't delay!
This was initially supposed to be posted next week, but there are some important baseball dates everyone needs to know about! The last Bark in the Parks across the country… please join us next week as we explore a little unknown secret in the Sierras.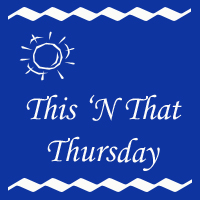 We're joining up with 2 Brown Dawgs for This 'N That Thursday Blog Hop!