Are you aware of how you sound when you are training your dog? The reason I ask is that this summer at a dog blogging event I witnessed a fellow blogger scolding her dog for behavior that was a little unruly. And it made me wonder, ' If she is treating her dog this way in public, how does she treat her dog at home?' During the time she was scolding the dog her face was very hard,stern, and rather scary. She was jerking the small dog with quick snaps of the leash and forcing it in a down position. Did this dog deserve this type of correction? NO! And honestly I was surprised to see someone doing this at a dog blogging event.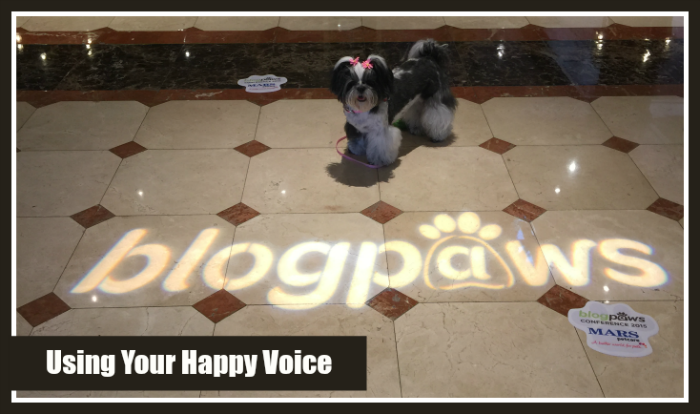 Using Positive Reinforcement
This is one of the reasons I believe in teaching my dogs with positive reinforcement (+R). Not only is +R great for building up confidence and self-esteem, you as an owner don't look like an ass when your dog is out of control because you are able to control yourself and your dog. During this time treats could have been used to do the following and correct the behavior with the following:
Attention and Focus: One of the first things I do is train my dogs a focus skill. When something is distracting I use either a word or sound to redirect their attention back to me and reward for that behavior.
Bed / Down: When traveling I always carry a small portable bed for Riley. It's her go to safe area. It's where she can feel comfortable in any situation.
Leave: If your dog is in an uncomfortable situation, sometimes removing them from the situation can be the best thing for them. There is no reason to subject your dog to situations that will cause fear, anxiety or even worse aggression.
Now these are only a couple of things and knowing your own dog you might have things you do to ease the situation, but forceful corrections that are done out of anger and frustration on your part are never the answer. Now I am sure that the small dog whose incident described above is out and about a lot, but having the correct training at home can make the world of difference.
Using Your Happy Voice
This brings me back to the title of this post 'Using Your Happy Voice'. Using your happy voice while training your dog can make all the difference in your own emotions when interacting with your dog. When I used to train people and their dogs, I always emphasized for them to keep a smile on their face, especially when their dogs started acting crazy. A simple smile on your face helps you to use a softer and happier voice.
So just remember, how you train at home is what is going to be seen in public if a training session is needed. Take the time to train your dog with love and kindness. Make each session fun for yourself and your dog.