Welcome Back… Welcome back, Welcome back, welcome back…. I don't know about you, but I can her the tune of Welcome Back Kotter as I am writing this. It seems that is about all that has been running through my head. The Shih Tzus return!!! Yipppee.
It has been a while since OMST has reached out to the world. In the past month my life has been turned upside down, flipped around, and now a bit sideways. Don't worry all the Shih Tzus are doing great. I on the other hand am not. Diagnosis: Type 2 diabetes, hypothyroidism, anemia and high cholesterol. All of which can be treated with medication, proper nutrition and exercise! So once I really recover from the shock of it all, I'll be good to go!
So I bet you've been wondering what we've been up to on our little break. Well Riley and I once again headed to Las Vegas for another convention, and the last for the summer and year. This time we had a great time at Mandalay Bay for Photoshop World 2014! So what is Photoshop World? A wonderful convention dedicated to Adobe's Photoshop & Lightroom in addition to great photography classes, all by the wonderful people of KelbyOne. I learned so much and met some amazingly talented people. I must say the opening keynote was one of the best I have ever attended. Even though opening ceremonies were almost an hour & half long, I have attached it for your viewing pleasure. Well it's all there but watch the first 4.5 minutes!



After the first day Riley was all tuckered out! Luckily the beds at Mandalay Bay are very comfy! But lately this has been the position Riley has been in. We've had fun resting and just taking a little time off. Now it's time to get into shape.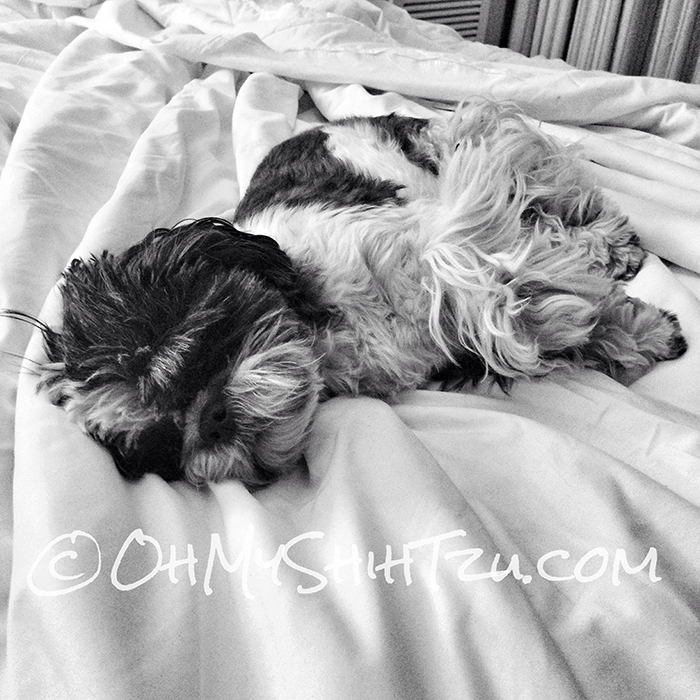 So what do we have in store for you in the next couple of months?
1) With the great weather that has finally descended upon us here in Central California we're getting in shape and training for the spring 2015 agility trials! So we will have fun picking up where Riley left off, and also we going to train Chicky, an old dog (8 years) some new tricks. I am a strong believer that it is never to old to learn something new.
2) Nutrition for your little ones can be very daunting if you have little dogs. As many people know littles, especially Shih Tzu's can be very picky. We have a few secrets to combat that.
3) Review, Reviews and more Reviews! Yup you've asked for it, so now we will be sharing all our favorite items, old and new! With 6 little ones we go through a lot of doggy items, some good, some not so much … now we will help you save some extra money by not going down the wrong retail aisle.
4)Pictures! What fun would it be to not have cute pictures of a bunch of little dogs. But sometimes taking those pics can be easier said than done. We will share some tips & techniques for taking great photos and editing.
This is just a little bit of what we will be sharing. Thanks for staying around and we hope you will find that we are definitely worth the wait!
We are so happy to be joining Snoopy for Monday Mischief!

Be sure to stop by Snoopy's blog to say Hi, along with all the other great blogs below to see what everyone has been up to.


Powered by Linky Tools
Click here to enter your link and view this Linky Tools list…