A couple of years ago I ventured into pet rescue adoption. I immediately became a foster failure with my first Shih Tzu foster, Katie. A year later after losing my father, I also lost a foster. Do to the rescue that I was working with at the time not willing to give proper care, she died in my arms the following morning after seeing the vet. Though my vet comforted me as to the degree of her illness, I was never going to let that happen again. Never would I let someone dictate to me of how a dog should be cared for.
A couple of months later after this incident I received a call from another rescue stating they knew of an older Shih Tzu that needed help. His owners were no longer able to care for him do to the loss of jobs and they were ready to euthanize him. I immediately contacted him and we agreed to an owner surrender, with the help of another rescue. I picked him up and immediately met with another rescue who was kind enough to take him to the vet for me. Later that evening I picked him up, as I became his foster mom (fm).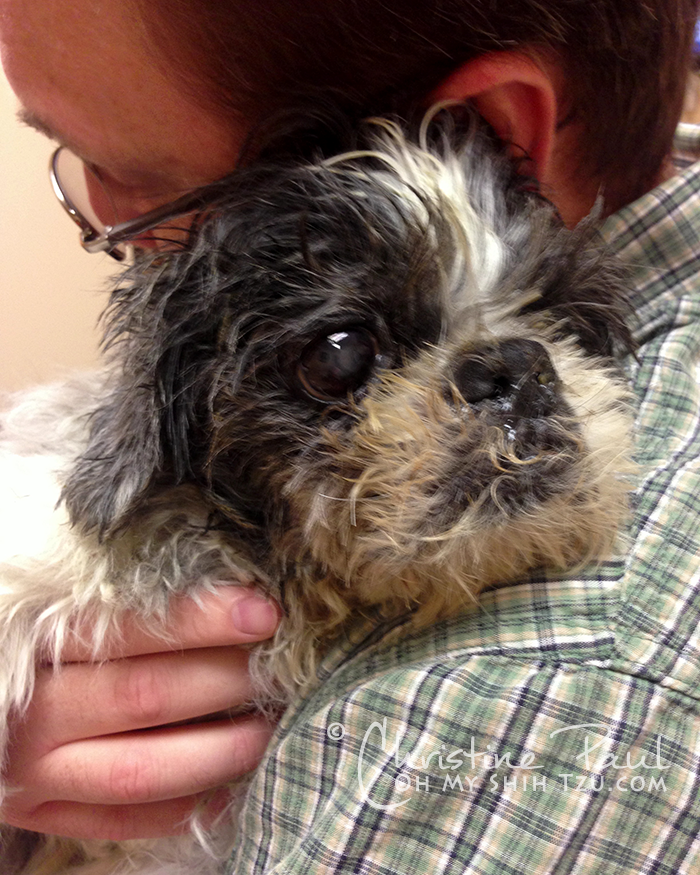 When Mr. JoeJo came to me he was very aggressive. In the beginning I was actually afraid to give him medication. Now I have been training dogs for a long time, but this little guy scared the living petunias out of me. Now he just didn't bite… he came after you like a little shark and wouldn't stop. To be able to give him meds, I used a "no bite" collar. It's hard plastic that fits completely around the neck. So with every administration of the medications I would also give a yummy treat. JoeJo started getting the idea and with time we were able to give meds without the collar and move to a soft cloth muzzle. Over time, collars or muzzles were no longer needed, he willingly would take meds because they were no longer scary or hurtful. Heck, I don't even have to treat afterwards.
I learned to enjoy the little things the most about Mr. JoeJo, are all the little milestones that come along the way. Carrying a stuffed toy in his mouth, I call them stuffies. Being able to kiss his cheek or pet him under the chin. Finding out he gets excited when he gets a new outfit put on and cuddling into my body and rubbing his face against me.
Mr. JoeJo was a senior with special needs. His day consisted of receiving a muscle relaxant 2x a day to enable him to eat (degenerating jaw) which we eventually phased out, Anapril (Canine Cognitive Dysfunction) 1x a day, Baytril Otic (ears) 2x a day, Cyclosporine (eyes) 2x a day, fluids (kidneys) 3x week and lastly laser treatments (ears) once a week. In addition to this, he slept with me so I could take him out to wee wee in the middle of night. He did not have the ability to ask to go outside and would wee wee on the floor if not taken out immediately upon waking up.
Even after all this, I was so fortunate that he shared his life with me. Having a senior pet taught me so much about love and compassion with an older dog. When I received Mr. JoeJo he had just turned 13, and at the time I did not expect him to make it to Christmas. But he made it through two Christmas'.
When he passed on July 8th, of this year my world crumbled. I still cry every time I think of him, and writing this hurts more than anything. I find comfort in knowing that he knew love and had a good life the last 2 years, 1 week that he was with me.
I have decided to share the last moments we had with him, Me, Hubby & Riley. She came along because she wanted to be with her big bro and give him comfort too. In the last few months he suffered from pancreatitis & kidney failure, he had gone from a robust 14lbs to a little over 8lbs all while eating just as much as Riley (17lbs). I had always asked my vet, 'When will I know?', while I knew that day it was time as I could no longer keep the pain away. And it hurt me too much to let him feel that way. He would just crawl into my lap and cry… it was time.