Unless you have been living under a rock for the past 4 years, you know of the horrible drought my beautiful state of California has been in. Hopefully, if predictions are right an El Nino could be headed our way this winter, lets keep our fingers crossed. And though one El Nino system season is not enough to get us out of this drought, it will definitely give us some much-needed rain and moisture to the dry land.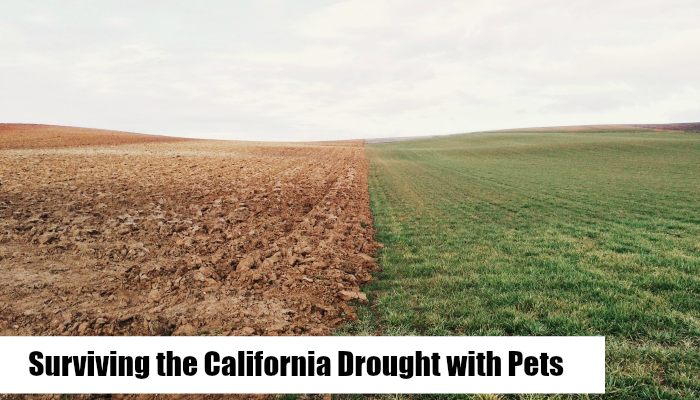 Since many cities have now imposed water restrictions on usage, changes need to be made in many households to conserve as much water as possible.
5 Tips to Survive the California Drought with Pets
Water Bowls
There are 5 water bowls throughout the house and 2 outside. Of the 5 that are in the house 3 stay relatively clean at all times. These bowls are located in my office and bedrooms, so I normally change those bowls out every 2 -3 days. The main water bowl is located between the dining and family room, and this bowl is changed 2x daily. The main water bowl is used for what I believe to be a chin cleaning station after breakfast and dinner, rather than a water bowl! In the past this dirty water was just poured down the sink, but this is no longer the case. We now have a "grey" water bucket in the garage for all that water that is still useable for things like watering the grass and plants.
Got Fish?
I have to say we are bad fish parents and usually clean the tank out once a month. Thank goodness guppies are hardy little fish. But if you have fish and are cleaning out the tank, don't throw out the water down the drain! That stinky old tank water is actually very nutrient dense for your plants so fill up the plant watering can!
Bath Time for Little Dogs
We are conserving water by how often they are given and how they are given. While Katie requires a weekly bath (or more) due to her allergies, Riley, Trixie & Chicky are getting baths every other week. To conserve water the girls also take baths with me. They get all lathered and bathed while I am conditioning my hair. It's actually a great little system and they have become more relaxed knowing that I have to have a bath too! To conserve water a bit more, we have also installed a low flow shower head so the water can be paused while the girls or I are getting lathered up.
Bath Time for Big Dogs
Groomer
Make sure your groomer is water smart and has water saving measures in place. Don't be afraid to ask!
Photo Credits: