If you didn't know it before, let me tell you now, I am a loyal customer and fan of The Honest Kitchen. I started feeding THK to my dogs approximately 3 years ago, so can you imagine my joy when I heard they were coming out with a bar shampoo for dogs? I'm always in search of that perfect Shih Tzu shampoo, especially for Katie and Ise who suffer from skin allergies. Yes, I do my best in feeding a natural healthy diet with organic supplements to help control the itchiness, but sometimes that just doesn't work. So when I found out THK was introducing their own line of shampoo called Sparkle Pet Shampoo Bars , I was ecstatic!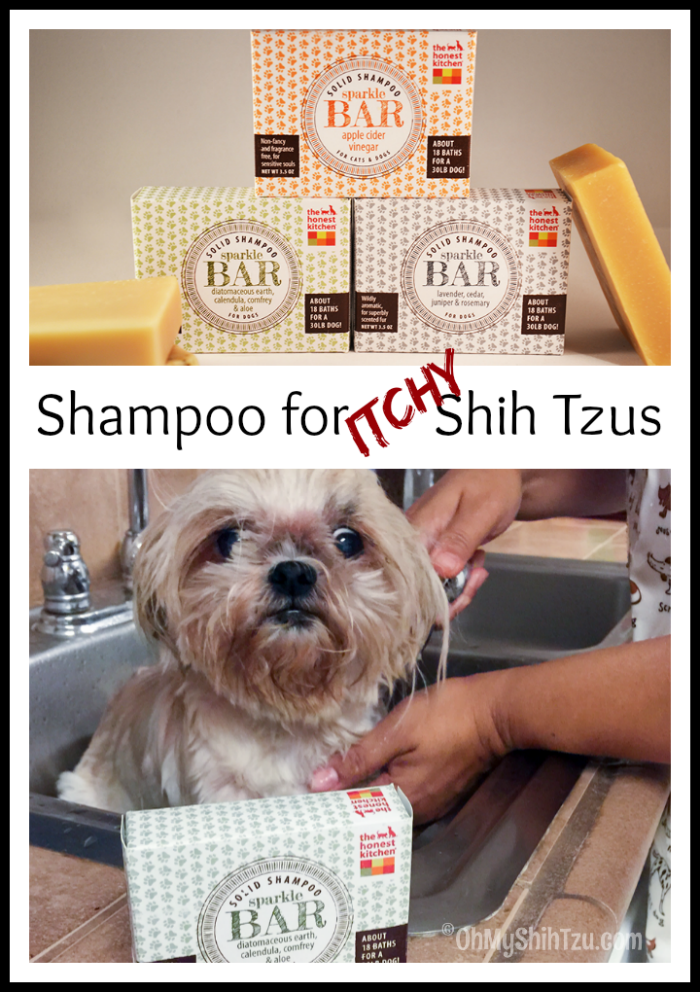 What Makes Sparkle Bars Special
They're hand-made from free range goat's milk blended with olive and coconut oil plus herbs and botanicals! But that's not all, they are also environmentally responsible. You can say that these bars are sort of "dehydrated" compared to other regular shampoos that you are used to. Because there is no wasteful water in these bars, there is less packaging, and have a small carbon footprint when it comes to shipping!
Recipes of Sparkle Bars
I love the fact there are 3 different "recipes" for dogs with different needs, and one, the Apple Cider Vinegar can be used on both Dogs & Cats!
Diatomaceous Earth, Calendula, Comfrey & Aloe (for dogs) A special recipe for pups with skin irritation, hot spots and itching. This calming combination of silica-rich diatomaceous earth, healing Calendula and anti-fungal comfrey really helps to soothe and settle troubled skin.
Apple Cider Vinegar (for dogs and cats) A simple formula for sensitive skin. Apple cider vinegar is the perfect choice for both cats and dogs who tend to react to highly fragranced shampoos or harsher products.
Lavender, Cedar, Juniper & Rosemary (for dogs) An aromatic shampoo bar with a wonderful whiff that stays with your dogs fur/hair .
Shampooing a Shih Tzu
The test of this was in shampooing Katie. Katie is almost constantly scratching at herself so I decided to use the Diatomaceous Earth, Calendula, Comfrey & Aloe.

I loved the smell of the bar, how it suds up (not too much) and how easily it rinsed from her hair.
The Proof
Normally I rinse my girls with apple cider vinegar and apply a conditioner to their hair but this time I didn't. Within the first 24 – 48 hours I witnessed a noticeable difference in the amount of scratching she normally does. I would say her scratching dropped off 85-90% of how often she normally scratches. Now you may be thinking, well that is just one dog, but we also used the Sparkle Bar on Ise too with the same results!
I have found a great shampoo for the girls!! Yes the perfect Shampoo for Shih Tzus with itchy skin!!!
The Giveaway
So guess what? Since I thought this was the next best thing since sliced bread the wonderful folks at The Honest Kitchen wanted to give the readers of Oh My Shih Tzu a chance to try out the Sparkle Bars too! But you wont get to try only one, one lucky winner will get the opportunity to try all three Sparkle Bars!

a Rafflecopter giveaway
About the giveaway: No purchase necessary. Giveaway is open to US residents only, except where prohibited by law. Giveaway will run from August 10th through August 16th , 2015 at 11:59pm PST. One (1) winner will be randomly selected and notified via email. Winner will have 48 hours to claim their prizes; failure to do so will result in forfeiture of the prize. Facebook, Twitter, and Pinterest do not sponsor, administer, or endorse this promotion. Participants must read and agree to Rafflecopter's Privacy Policy before entering and participating in this promotion. By entering this contest, participants grant permission for their email address to be added to OhMyShihTzu's newsletter list. The Honest Kitchen is providing the prize for this giveaway, but is not administering this giveaway. Disclaimer: The Honest Kitchen provided one Sparkle Bar to us for our honest review, we were not monetarily compensated for our review or mention of their product. Please know that we only share what we believe is good for your pet, and in brands you can trust. We believe in honest and truthful reviews to protect you and your family.